Iran admits oil exports fall by 40 percent amid crippling Western sanctions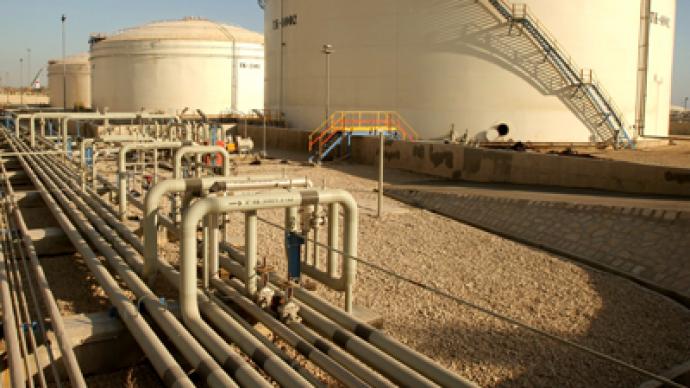 Iran's oil exports have plummeted by 40 percent as a result of harsh Western sanctions targeting the country's nuclear program, the country's oil minister admitted Monday. Tehran previously denied the sanctions were having any meaningful impact.
Iranian Oil Minister Rostam Qasemi told the country's budget and planning parliamentary commission on Monday that apart from the steep decline in oil sales, there had also been  "a 45 percent decrease in repatriating oil money," the Iranian Student News Agency (ISNA) cites him as saying.Iran, once the second-biggest crude exporter in the 12-member Organization of Petroleum Exporting Countries, after Saudi Arabia, historically relied on revenue from oil exports to provide for a large portion of the state budget. In 2011, for example, oil exports brought in some $100 billion, covering 60 percent of state expenditure.In light of western sanctions, the Organization of Petroleum Exporting Countries (OPEC) and the International Energy Agency (IEA) estimate that Iranian oil exports more than halved from 2.4 million barrels per day in 2011 to 1.0 by the end of 2012. As a result, Iran is now the fifth-biggest crude exporter in OPEC, with Iraq, Kuwait and Venezuela pulling ahead, according to data compiled by Bloomberg News.Qasemi's admission could prove significant, as he had previously been the most vehement in denying that EU and US sanctions had any significant impact on the country's economy. In July of last year, Western nations began targeting Iran's energy sector with harsh sanctions over the country's uranium enrichment program. The European Union (EU) proscribed member states from buying oil from the Islamic Republic. Exports to Asia were subsequently targeted by an EU insurance ban on Iranian oil shipping and US sanctions against Tehran's central bank.US sanctions which severely limit Iran's ability to use international banking transactions to repatriate oil revenues are costing the country some $5 billion per month, AFP reports.On Monday, a report from the UK-based Economist's Intelligence Unit (EIU) said "nearly all of Iran's oil exports now go to China, South Korea, Japan and India," state-owned Mehr News Agency said.The report cited a particular dependence on China, which is now estimated to purchase some 50 percent of Iran's total oil exports.But China also reduced shipments of Iranian crude by more than 20 percent in the first 11 months of 2012, the Paris-based IEA said.Despite the impact sanctions are having on the country's economy, Iran has thus far been unwilling to make concessions, arguing that a peaceful nuclear program is an inalienable right for any state.The West hopes the sanctions will force Iran to the negotiating table as an alternative to military intervention.
You can share this story on social media: