As Tehran offers concessions, the West turns the sanction screws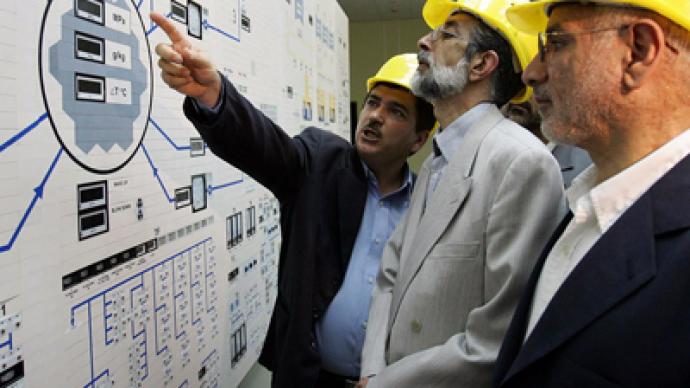 Western governments are looking for new ways to put pressure on Iran, despite the Islamic Republic's latest statement that it's ready to show flexibility and resume negotiations on halting higher-grade uranium enrichment if its conditions are met.
But Germany wants to continue getting tough, urging the European Union to heighten its already-crippling sanctions. On Sunday, German Foreign Minister Guido Westerwelle called for Berlin's Western colleagues to adopt further sanctions against Tehran due to its refusal to make concessions during talks on its nuclear program over the past months. This is just a day before a meeting of EU foreign ministers in Luxembourg, where the bloc could adopt an even tougher set of sanctions. Westerwelle stressed, though, that the P5+1 group (the five permanent members of the United Nations Security Council plus Germany) remains committed to a "political solution" to Iran's nuclear energy program, which some Western governments allege is part of a covert atomic weapons bid. The statement by the German FM come a day after Iran said it will consider limiting its enrichment of higher-grade uranium.  The conditions for such a concession, which Iranian Foreign Ministry spokesman Ramin Mehmanparast laid down on Saturday, included a "guaranteed supply" of fuel enriched to 20 per cent for use at the Tehran Research Reactor – and the suspension of economic sanctions first and foremost. If Iran gets already-enriched fuel, the country's officials assert, it will "voluntarily limit the extent" of its enrichment program.Iranian officials stressed that while the country may agree on fuel delivered from abroad, it still has a right to enrichment – a right that other governments should recognize.However, many Western governments reject such conditions, claiming that an end to sanctions on Iran's people would remove any motivation for Tehran to negotiate seriously.Professor Seyed Mohammad Marandi of the University of Tehran says that the pressure and sanctions from Western powers are hurting ordinary Iranians first of all – and that this is the US and EU objective.  "Increasing sanctions by the West will only make things more difficult," Marandi told RT. "Because Iranians see the sanctions that are being imposed by the Western governments as inhuman; the intention is to make ordinary Iranians suffer."Marandi says tougher sanctions have nothing to do with the Iranian nuclear program. "The Iranians are willing to be more open and allow more intrusive inspections, and they are willing to talk about enriching uranium under certain conditions," he says. "There is a consensus that this doesn't have much to do with the nuclear program. The issue is Iran's independence. Iran is not the country which would bow down to Western countries, but Europeans and Americans want Iran to kneel like Saudi Arabia and other countries in the region."Western powers want Iran, which they suspect of developing a nuclear weapon, to stop 20 per cent uranium enrichment, despite the fact that nuclear weapons require uranium to be enriched to a level close to 90 per cent. Washington and Brussels also demand that Tehran shut down its underground Fordow centrifuge facility near the city of Qom, where enrichment is carried out.Iran denies the allegations that it is developing nuclear weapons, insisting that its nuclear research is for exclusively civilian means.
You can share this story on social media: