Iran: EU oil embargo doomed to fail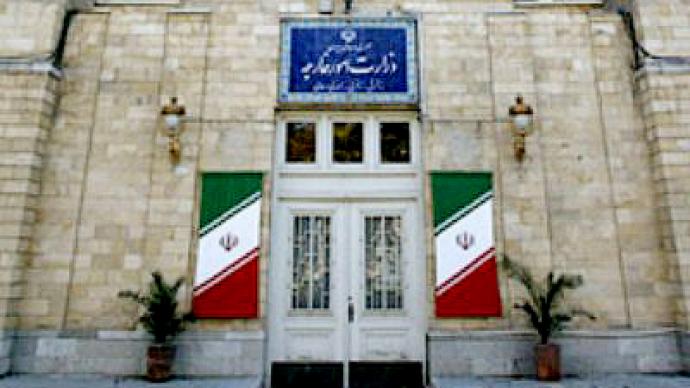 The EU's embargo on Iranian oil is "doomed to fail," Tehran said after the crucial decision was taken. Iranian media outlets are sure the Persian country will not run out of customers - and suggest cutting off oil supplies to Europe before July.
"Threats, pressure and unfair sanctions against a nation that has a strong reason for its policies are doomed to fail," said Foreign Ministry spokesman Ramin Mehmanparast, as quoted by Itar-Tass.Economic sanctions will not keep Iran from its nuclear program, the diplomat said, adding that tightening the screws on Iran is an "illogical and useless measure…only understandable in the framework of propaganda and psychological war." A total boycott of Iranian oil starting in July 2012 would but worsen the continuing economic crisis in Europe – and will play into Washington's hands, said Mehmanparast:"It seems the American authorities want to disrupt the energy sources of their rivals and weaken their economies under the pretext of piling up political pressure on Iran." Earlier in the day, several top Iranian officials threatened to block the Strait of Hormuz, which Gulf crude exporters use to take almost a third of their oil to the international market. At the same time, Iranian media's respondents showed unanimous confidence that the Iranian oil market would stay afloat just fine. "I personally do not take Europe's oil embargo against Iran seriously," Iran's former Oil Minister, Kazem Vaziri-Hamaneh, told the Mehr News Agency on Monday. "Europe should be confident that Iran's oil will not remain without customers."Iran's former Intelligence Minister Ali Falahian urged the country to take a proactive approach to the EU's embargo – and cut off oil supplies before July so that the European countries most dependent on Iranian oil, such as Italy, Spain and Greece, did not have enough time to find new providers."The best way for us is to stop oil exports before the six-month deadline comes to an end and the oil embargo plan comes into effect, so that crude prices go up and Europeans' US-driven plans for sanctioning our country's oil fall flat," Falahian said in an interview published by the Fars news agency on Monday. The 27 EU Foreign Ministers, while giving a go-ahead to the embargo on Monday, demanded Iran suspend its nuclear power program and return to the negotiating table. World leaders are concerned that Iran is seeking to build nuclear weapons, as a report by the International Atomic Energy Agency revealed in November that Iran may have carried out research on mini-warheads design.Besides boycotting Iranian oil, the EU Ministers agreed to freeze the assets of the Iranian Central Bank and suspend trade in diamonds, gold and other metals with the Iranian Central Bank and other state institutions.
You can share this story on social media: