US aircraft carrier sails through Strait of Hormuz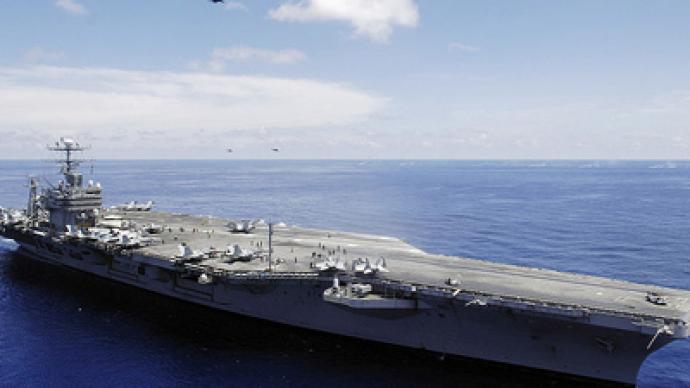 The USS Abraham Lincoln sailed through the Persian Gulf Strait of Hormuz on Sunday without incident, as part of scheduled maritime security operations.
That is according to Commander Amy Derrick-Frost, a spokeswoman for the Navy's Bahrain-based 5th Fleet. And while the US Navy says it's just a routine maneuver, the act is expected to add further strain to Washington's already-tense relations with Tehran.The move comes just a day after Defense Secretary Leon Panetta said the US is committed to maintaining a global fleet of 11 aircraft carriers despite pressure to reduce the fleet's size. In his statement, he told an audience of sailors aboard the USS Enterprise that their ship was headed for the Strait of Hormuz – a move that would send "a direct message to Iran."US warships frequently operate in the Gulf. But after the carrier USS John Stennis left the are in late December, Iranian officials warned the US to stay out. This time, Iran said the American naval operations in the Gulf are normal."US warships and military forces have been in the Persian Gulf and the Middle East region for many years, and their decision to dispatch a new warship is not a new issue – and should be interpreted as part of their permanent presence," Revolutionary Guard Deputy Commander Hossein Salami was quoted as saying by the IRNA news agency on Saturday.Iran recently suggested it might use military force to close the Strait in retaliation for new international economic sanctions, as the EU gets set to agree an embargo on Iranian oil. The West hopes the sanctions will force Iran to suspend its alleged nuclear weapons production, the existence of which remains dubious.
You can share this story on social media: