Iran has no intention to develop nuclear weapon – Supreme Leader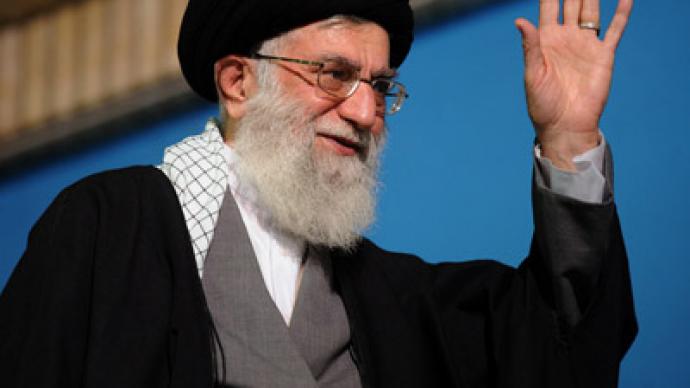 Iran has no intention to develop nuclear weapons, but if it did, no country could prevent it from doing so, Iranian Supreme Leader Ayatollah Ali Khamenei said on Saturday.
"We believe nuclear arms must be eliminated, and we don't want to build nuclear arms," Khamenei said, as quoted by the Iranian Students' News Agency (ISNA).In his speech, Khamenei lashed out at the US and accused them of fraud, saying that Washington is calling for the elimination of nuclear weapons while continuing to produce them.  The United States and other Western powers suspect that Iran is enriching uranium for an atomic weapons program. In the past, the country's officials have said that a ban on nuclear weapons issued by Supreme Leader Khamenei is binding for the Islamic Republic. Earlier this week, the Iranian Foreign Ministry called for the destruction of all nuclear arms following North Korea's third nuclear test."We need to come to the point where no country has any nuclear weapons and at the same time all weapons of mass destruction and nuclear arms need to be destroyed," Foreign Ministry spokesperson Ramin Mehmanparast said.However, while visiting Moscow, Iranian Foreign Minister Ali Akbar Salehi said that North Korea had the right to conduct its a nuclear test, as it withdrew from the Non-Proliferation Treaty in 2003.UN Secretary General Ban Ki-moon has compared Iran to North Korea, claiming Tehran is on the same path towards the covert development of a nuclear weapon. "We should not give much more time to the Iranians, and we should not waste time," Ban told the Washington Post. "We have seen what happened with the DPRK [North Korea]. It ended up that they [were] secretly, quietly, without any obligations, without any pressure, making progress."The next round of nuclear talks between Iran and the US, Russia, China, France, the UK and Germany will take place on February 26 in Kazakhstan. Iran is expected to be offered an easing of sanctions on gold and other precious metals, in return for shutting down the nation's newly expanded Fordow uranium enrichment plant, Reuters reported, citing anonymous officials.Iran is currently under numerous sanctions imposed by Western nations in an attempt to curb its controversial nuclear program.
You can share this story on social media: