Iran rolls out advanced drone, missiles to 'confront American threat'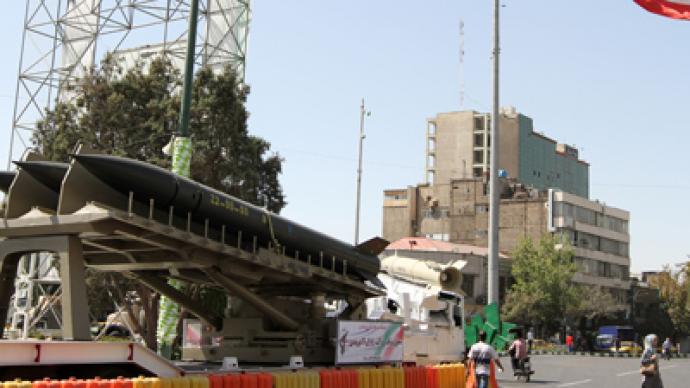 Tehran has reportedly unveiled an advanced drone and tested an anti-aircraft missile system as the Islamic Republic proves it has the military might to fend off any threat amidst, including advanced US fighters.
The Islamic Revolution Guards Corps (IRGC) showcased its new unmanned aerial vehicle, the Shahed 129, on Monday.
Tehran claims the domestically produced unmanned aerial vehicle (UAV) is capable of carrying out combat and reconnaissance missions with its 24-hour nonstop flight capability, state-owned Press TV reports.
They also say the drone can hit targets at up to 2,000 kilometers away and can be equipped with electronic and communication systems which can transmit live feeds. The military says the Shaded 129 drone will aid Iran's surveillance capabilities in border areas, the Persian Gulf, and the Sea of Oman.

The IRGC also successfully test-fired the country's latest anti-aircraft missile system.

The Ra'ad mid-range missile system is equipped with Taer 2 missiles and can reportedly intercept targets at a range of 50 kilometers and fly at an altitude of almost 23 kilometers.

Tehran claims the domestically manufactured missiles are "more advanced" than the Russian-made Buk family of missiles, Fars news agency reports.

Fars also reports that at Sunday's naval drill, four missiles hit a warship-sized target, sinking it in 50 seconds.

"We have missile systems that cover all the Persian Gulf coasts and the American bases (in the region)," Admiral Ali Fadavi, commander of the Guards' navy, told Fars.
Iranian bomber drone Karrar (file photo)
The admiral also added that within half a year "big naval maneuvers in the Strait of Hormuz," will take place.

"This system has been built with the aim of confronting American warplanes," Iranian Brig. Gen. Amir Ali Hajizadeh, commander of the Islamic Revolutionary Guards Corps' aerospace division, declared late last week.

Analysts regularly challenge some of Iran's military assertions, however, saying the Islamic republic tends to exaggerate its military capabilities.
The demonstration coincided with US-led naval exercises in the gulf amid rising anxiety over Iran's refusal to abandon its controversial nuclear program, which the country says is for peaceful means only.

Israel, which perceives the program as Tehran's drive to obtain intercontinental ballistic missiles, has continually threatened a pre-emptive strike.

Washington has opposed unilateral Israeli action, fearing it will trigger a regional conflict. The US has beefed up its naval and air personnel in the region, however.

The move is seen as threatening by the Islamic Republic. "Iran will not start any war but it could launch a preemptive attack if it was sure that the enemies are putting the final touches to attack it," Hajizadeh has warned adversaries.

Hajizadeh also declared that an Israel-Iran war would be disastrous "and will turn into World War III as other countries become embroiled in the conflict