North Korea and Iran: 'Evil' nuclear fusion?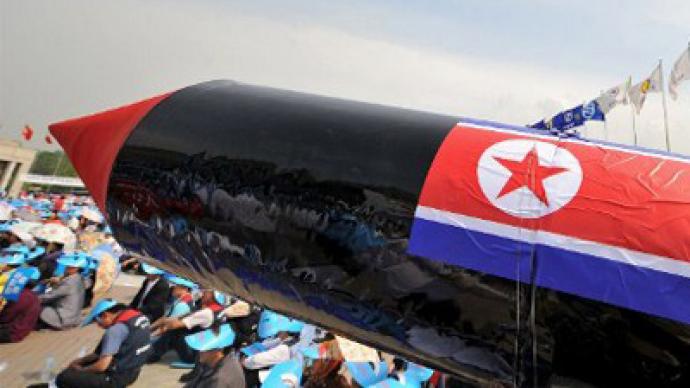 Two members of the 'axis of evil' conspiring to make nuclear weapons? Such a nightmare scenario would be dreadful indeed. But with unnamed sources claiming North Korea is helping Iran go nuclear, something about the plot seems dreamt up.
George W. Bush's long-awaited chance to utter an "I told you so" may have arrived, as reports of nuclear weapons cooperation between Iran and North Korea surface in Asia. This comes hot on the heels of last weeks' International Atomic Energy Agency (IAE) report, which says Iran has been developing a nuclear bomb since 2003.However, while the 25 page IAEA document makes no mention of any possible links between Pyongyang and Tehran, this has not stopped the international community from going into frenzy over the possibility of North Korea helping Iran develop their nuclear arsenal. Notwithstanding the lack of any concrete evidence, politicians and the media alike seem to be circling these two members of the so-called "axis of evil" from all sides. Though some of the faces in US politics may have changed, the strategy and rhetoric of western leaders seems to remain the same: never mind domestic discontent at home, we have mythical nuclear weapons to deal with – a modus operandi which may result in yet another dead-end conflict.South Korean news outlets have been quoting numerous diplomatic sources – all on condition of strict anonymity – that hundreds of North Korean engineers and scientists have been working at nuclear facilities in Iran. Japan's daily Sankei Shimbun was more modest in its estimation, reporting Thursday that 10 North Korean scientists had been closely working with Iranian researchers at three separate secret nuclear facilities around the country. The newspaper went on to add that such collaboration seems plausible, seeing that North Korea is "cash-strapped" and needs financial aid – something Iran, according to the newspaper, is eager to offer in exchange for nuclear cooperation. Their claims have found eager support in the West, as various media outlets quickly ran with the story.A German newspaper Sueddeutsche Zeitung reported earlier this year that North Korea had provided Iran with a computer program which is vital for the construction of reactors and the development of nuclear explosives. Once again, however, none of the statements have been supported by concrete evidence, seeing that they were also reported by anonymous sources. Infowars.com quotes Bruce Bennett, a senior defense analyst at the Rand Corporation, which conducts research and analysis for the US military, as saying the international community should keep a watchful eye on the goings-on between Iran and North Korea. In a report filed two years ago which is also available on their site, Rand Corporation essentially blames the collapse of the Soviet Union for the proliferation of nuclear weapons that has necessitated preventive strikes against countries like Iran and North Korea. The report draws the conclusion that US policy makers will be compelled to Cold War era stratagems of limited war and escalation management. That very strategy seems to be in effect judging by the plethora of recent reports on supposed nuclear arms development by both countries.However, Bennett himself has been quoted as saying it would be wrong to consider North Korea a fully-fledged nuclear power, as it does not have a working atomic bomb, despite carrying out tests in 2006 and 2009.However, determining North Korea's capabilities is still a guessing game. In 2009, IAEA investigators were kicked out of the country before they were able to determine just how close Pyongyang was to becoming a nuclear state.This didn't stop the agency from asserting North Korea had cooperated with Syria and Myanmar in the nuclear sphere. But while Iran is being mentioned in alarmist reports today, then, just as now, the IAEA had nothing to say when it came to North Korean cooperation with Tehran.
You can share this story on social media: