Caught in their web: Iran reportedly returns fire in US cyberwar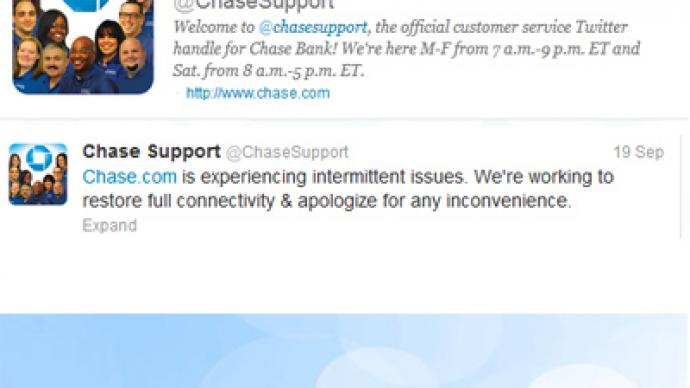 Iran has launched a major cyber counter-offensive on US targets, attacking major Wall Street institutions, Reuters news agency sources report.
Bank of America Corp, JPMorgan Chase and Citigroup have come under ever increasing denial-of-service attacks since the end of last year. The attacks use brute processing force to make a website unavailable to ordinary users, but gain no access to private information."Most people didn't take Iran seriously. Now most people are taking them very seriously," a source told Reuters.Bank of America and JPMorgan Chase experienced unexplained website disruptions earlier this week, and NBC reported that the attacks may have been orchestrated by Iran.The financial institutions in question and official bodies have refused to comment.In recent years Tehran has allegedly been attacked by Flame, Stuxnet and Gauss, three viruses that gathered information on sensitive Iranian equipment and slowed down its nuclear centrifuges. They were tacitly confirmed to have been launched by the US and Israel, as a way of slowing down the country's atomic program, which the West says is aimed at eventually producing nuclear weapons.Since the attacks, the Islamic Republic has vowed "to fight enemies with abundant power in cyberspace" according to one of its top officials.It has blocked off the majority of its country's internet connections, and called for a formation of an army of cyber-warriors who would retaliate against the Western cyber offensive."It is yet to be seen whether they have the wherewithal to cause significant damage," said Frank Cilluffo, director of the Homeland Security Policy Institute at George Washington University.Most experts believe that the country's capabilities lag some way behind world leaders the US and China.Even so, a successful denial-of-service attack has alarmed both the banks and their customers and paints a picture of US vulnerability.Reuters' sources also speculated that the attacks may have been intended as a diversion before a more powerful blow.And even if one is not immediately imminent, Iran's processing capacity is only likely to increase."It's like the nuclear program: it isn't particularly sophisticated but it makes progress every year," said Jim Lewis, who is a senior fellow at the Center for Strategic & International Studies.