France: EU likely to lift some Iran sanctions in December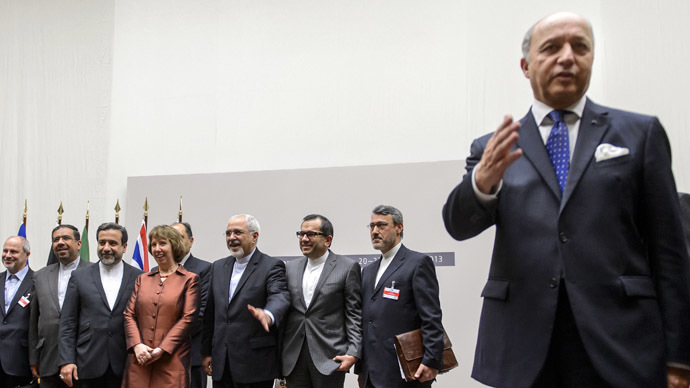 EU will likely ease sanctions in place against Iran in December, said French Foreign Minister Laurent Fabius. The announcement comes hot on the heels of a landmark deal over Tehran's nuclear program that ended a decade of diplomatic deadlock.
The European Union will ease sanctions imposed on Tehran "in December," the French foreign minister told radio Europe 1 on Monday. Fabius added that a meeting between EU foreign ministers had been scheduled for the coming weeks to discuss the lightening of the sanctions.

Although Fabius did not specify which sanctions would be lifted, he said that the move would be "reversible."
"We are doing the same as the American side," said Fabius. The P5+1 reached a deal with Iran in the early hours of Sunday morning that will allow Tehran access to $4.2 billion in funds frozen as part of the financial penalties imposed on the country.

The agreement will allow Tehran to continue enriching uranium, but only to 5 per cent, a far cry from the 90 per cent needed for the construction of an atomic bomb. Minister Fabius said that although the international community had agreed to let Iran continue enrichment, the deal does not acknowledge Tehran's "right to enrichment."
"Iran cannot do whatever it wants, there are specific limitations," he said. After the deal was clinched the international community has diverged somewhat in its interpretation of what it means for Iran's nuclear program. Iran's Deputy Foreign Minister Seyed Abbas Araghchi wrote on Twitter that the right to enrichment had been recognized in negotiations.
Russian Foreign Minister Sergey Lavrov intimated that Iran's right to enrichment has been acknowledged.

"This deal means that we agree with the need to recognize Iran's right for peaceful nuclear energy, including the right for enrichment, Lavrov told Russian press following negotiations.
In contrast Washington said that while it accepted Tehran's right to a "peaceful nuclear program," its right to enrichment had not been acknowledged.

"The first step, let me be clear, does not say that Iran has a right to enrich uranium," said Secretary of State John Kerry on Sunday. 

British Foreign Secretary William Hague said that anyone trying to undermine the nuclear deal with Iran would be "discouraged," adding that this includes Israel.

"We would discourage anybody in the world, including Israel, from taking any steps that would undermine this agreement and we will make that very clear to all concerned," Hague told the UK parliament.

The Geneva has, for the most part, been hailed as a success by the international community and a step towards the normalization of relations with Iran. However, Israel has opposed the deal and condemned it as a "historic mistake."
At a cabinet meeting on Sunday Prime Minister Benjamin Netanyahu said that Israel was not bound by the new agreement
"The regime in Iran is committed to destroying Israel. [But] Israel has the right and obligation to defend itself from any threat, [and] will not allow Iran to develop a military nuclear capability."
When asked if he feared the possibility of a preventative, Israeli strike, Fabius said he did not because "no one would understand" such a move "at this stage."