Iran blocks Gmail over anti-Muslim film
Published time: 25 Sep, 2012 18:45
Edited time: 25 Sep, 2012 23:51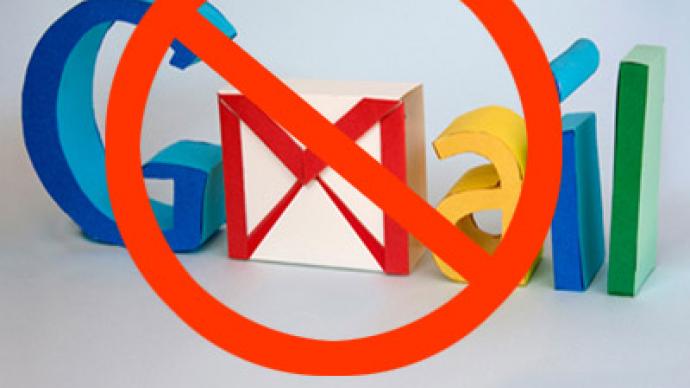 Iran has blocked Google's Gmail service following a court order saying the email service did not follow Islamic Law. The block comes in response to the highly contentious film "Innocence of Muslims."
Iran's telecommunication minister Reza Taghipour did not elaborate in what way Gmail had fallen out of step with Islamic Law, only saying his ministry would lift the block on access to Google's mail service if the court changed its decision, the semiofficial Mehr news agency quotes him as saying.

Access to Google's search engine in Iran has not been affected by the ban, he said.

On Sunday a government deputy minister said on state television that Google and its email service would be blocked "within a few hours."

"Google and Gmail will be filtered nationwide and will remain filtered until further notice," said Abdul Samad Khoramabadi, an advisor to Iran's public prosecutor's office.
Some disruptions were reported on Google's search engine on Sunday. A security researcher going by the Twitter handle @0xal said access to Gmail and Google had been restricted, IDG News Service reported. He later said that he could only access the services using a VPN (virtual private network) or a proxy, only to report later that it was still possible to access Google via some IP addresses.
Several residents in Tehran told AFP they had been unable to log into their Gmail accounts.
Tehran had previously threatened to block the popular web service due to the availability of an incendiary 14-minute film trailer on YouTube – which is owned by Google – that is highly derogatory of the Prophet Muhammad.The film has triggered a wave of protests across the Muslim world.

The move to block Gmail coincides with Iranian government plans to launch the initial phases of a national Internet, an Iranian wide network, which will substitute services currently run through the World Wide Web.
News to create an internal network separate from the Internet to insulate the country from cyber attacks was first announced by the Iranian Student News Agency (ISNA) in May.
"The Internet in its essence is an unsafe network, it will be changed to a safe network for the electronic government's exchanges through launching the national grid and using locally-made software," Taghipour said. He claimed, however, that it would not function like the Internet.
Advocates of web freedom in Iran fear that the Iranian intranet could completely supplant the Internet, virtually cutting the Islamic republic off from the outside world.

Mohammad Soleimai, who heads theparliamentary communication committee, dismissed these fears by saying the "National Internet" would not cut off access to the Internet, ISNA cites him as saying.

"Cutting access to the internet is not possible at all, because it would amount to imposing sanctions on ourselves, which would not be logical. However, the filtering will remain in place."

The new Iranian intranet is set to be up and running in under 18 months.