'Committee confident Winter Games will be free of discrimination' - IOC president
The International Olympic Committee (IOC) is entirely confident that all the Olympic venues will be completed in time for the opening ceremony and says the Sochi Winter Games will be free from any kind of discrimination, IOC President Thomas Bach told RT.
During a one week visit to Sochi to mark the 100-day countdown to the Winter Olympic Games, Bach sat down with RT for one of his first interviews since assuming the position. He discussed a range of issues related to preparations for the Games.
RT:How are the preparations coming along?
Thomas Bach: The preparations are coming along very well, what we have seen is very encouraging. When you see the sports facilities, we can be very confident that the athletes will have excellent conditions here during the Games.
RT:You are confident that everything will be completed on time?
TB: The last 100 days in every Olympic Games are always the most demanding ones. Based on what has been achieved already, we can be very confident that these last 100 days will be successful. 
RT:How close are we to being ready?
TB: We are very close. In some venues you can start tomorrow. Others have a little work to do.
RT:What do the organizers have left to do?
TB: This is a real unique concept to have all the ice sports together in one park. Now it is up to the organizers to bring this Olympic Park to life to create a real Olympic festive atmosphere. 
RT:It is a unique design to have everything so close, isn't it?
TB: This Olympic Park can be a great asset to the Games - not only for athletes, but also for the Olympic atmosphere. There is still some work that needs to be done. Spectators have to know about the potential of the park's offerings.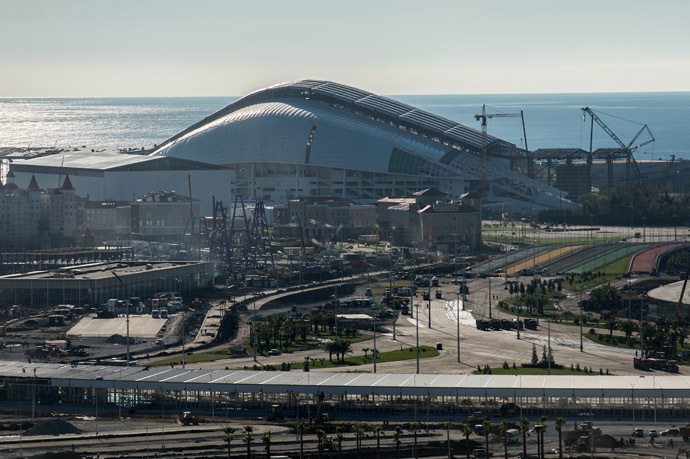 RT:How ambitious was the project?
TB: The project was extremely ambitious. Having no winter sports center, [Russia] wanted to have a winter sports center for very famous, excellent Russian athletes and its population. We are very happy to see what has been achieved in the last couple of years. It is one of the most ambitious Olympic projects. 
RT:There was fear by the IOC that the gay propaganda controversy could overshadow the Games.
TB: We have the assurances of the highest authorities in the country and of President Putin that there will be no discrimination whatsoever in the Winter Olympic Games. And this is what is important for the IOC. In the Olympic Games, the Olympic charter has to apply. The charter means no discrimination and this is what President Putin clearly expressed. Therefore, we are very satisfied with that statement and we are sure that this statement will be respected by everyone in Sochi. 
RT:The IOC tries to keep politics out of sports. Is that becoming increasingly difficult in this day and age?
TB: The IOC has to be politically neutral. This does not mean we are non-political. We have to realize that our decisions have political implications. The role of sport and the Olympic movement has to be politically neutral. If we are not neutral, then we will not be in a position anymore to set this positive example and promote our values. Then we would allow the Games to become a stage to demonstrate or to fight for your own respective political interest. Then the Games would lose their real sense and their value. 
RT:What is the IOC's message to spectators or athletes who are worried about coming to Russia?

TB: [The athletes and spectators] can be as confident as the IOC that the Olympic Games in Sochi will be free of any kind of discrimination and that the Olympic charter will apply. As President Putin said, they are welcomed in Sochi to celebrate an excellent Winter Olympic Games all together.