Investigative committee solves terrorist act at Domodedovo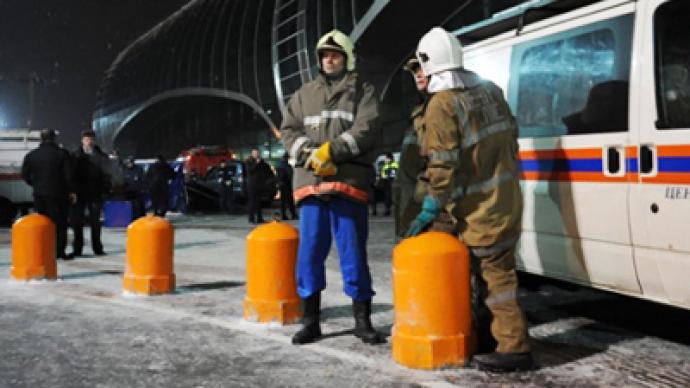 The terrorist act at Domodedovo Airport has been solved, an official representative of the Investigative Committee of the Russian Federation announced Saturday.
All the details of the investigation will be announced later. So far, the officials announced they have established the suicide bomber's identity, saying that he was 20 years old and born in the Caucasus. However, they refuse to disclose his name."Russia's investigators and security services have identified the suicide bomber who detonated an explosive device stuffed with metal elements at Moscow's Domodedovo Airport on Monday," says Vladimir Markin, an investigative committee spokesman.  "It was a 20-year-old man from Russia's North Caucasus. Although investigators know the terrorist's name, we are not going to disclose it now, as we are currently working to establish the organizers and accomplices of this crime," Markin said.Investigators say the suicide bomber blowing himself up in the international arrivals area of Domodedovo Airport was not a random act. They say the attack was aimed at the first place of foreigners' arrival in Russia. The alleged terrorist mingled with the crowd and set off his explosive device, apparently fixed around his body.  On January 24, a suicide bomber blew himself up in the middle of a crowd at Domodedovo Airport in Moscow. As a result of the terrorist act, 35 people died, and up to 180 were injured. Over a hundred still remain in hospital, some in a critical condition. Others recall very well those moments right before and after the blast."My first thought was to get away. A lot of people were lying motionless," says one victim. "Even more people were being piled up near the First Aid area.  Some were already dead. They were dragged away – a horrible picture.""I looked at my watch, and then – flash, and I passed out," recalls another man. "When I woke up there was a ringing in my ears, a sour smell. Everything in ashes, everyone is groaning. Three or four men were piled up on top of me. The one directly above me was wounded in the chest. He took all the shrapnel."Separatist groups and extremists from the North Caucasus have claimed responsibility for similar deadly attacks in Russia. In March last year, two female terrorist suicide bombers blew themselves up in Moscow's Metro, claiming the lives of 40 people. The twin bombings were carried out by a terror group in Dagestan.Last Monday's attack has once again raised serious questions about the about counter-terrorism methods in Russia – and both the airport and transport authorities and the police have come under heavy criticism. Yet the Russian response has been one of resilience.Just hours after the attack, flights had resumed and people began visiting hospitals to donate blood.The attack forced the country's government to step up security measures. A new three-level alert system on Russian public transport is set to be introduced soon. According to the new system, any potential threat will be evaluated on a three-level scale: high risk, critical risk or increased risk. There has so far never been such a unified system in Russia.    Addressing the annual World Economic Forum in Davos, President Medvedev said that those who committed this crime expected their actions to bring Russia to its knees. "But they thought wrong. Russia is aware of its place in the world. Russia will fulfill its obligations to all its citizens and the world community. Unfortunately, no state in the world is immune to terrorism. Terrorist attacks like this one in Russia unfortunately can happen anytime, anywhere in the world. There is no universal remedy against this evil. But one thing we can say for sure: our success in battling this threat very much depends on solidarity."All religions united to commemorate those who died in the attacks. On the official day of mourning, both President Medvedev and Prime Minister Putin attended special services. Flowers continue to be laid at the site of the blast – a poignant reminder that in the war on terror, it is once again ordinary people on the frontline.
You can share this story on social media: