New US report on Iran nukes 'makes issue urgent'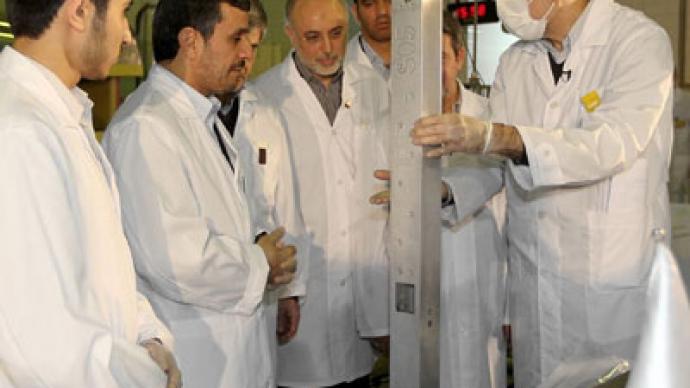 Time is running out to contain the Iranian threat, Israel's defense minister has warned. Israel is raising the alarm following a new US National Intelligence Estimate which says Tehran has made significant strides towards joining the nuclear club.
US President Barrack Obama was supposed to have received the latest National Intelligence Estimate (NIE) weeks ago, but it was delayed in order to include "new and alarming intelligence information" concerning the military nature of Iran's nuclear program, Haaretz reports. The report's conclusions are said to converge with those of the Israeli intelligence community.The NIE reportedly concluded that Iranian efforts to develop a nuclear capability had made considerably greater progress than initially thought.Israel's defense minister, Ehud Barak, said he was aware of an unspecified intelligence report circulating in Washington whose conclusions converged with Israel's own assessment of Iran's nuclear intentions.There probably really is such an American intelligence report – I don't know if it is an NIE one – making its way around senior offices (in Washington)," Reuters cites Barak as telling Israel Radio."As far as we know it brings the American assessment much closer to ours … it makes the Iranian issue even more urgent and (shows it is) less clear and certain that we will know everything in time about their steady progress toward military nuclear capability," he continued. When asked about a comment made last week by former Mossad chief Ephraim Halevy, who said "if I were an Iranian, I would be very worried in the next twelve weeks," Barak did not flinch. "There is some basis to what Halevy said." We will soon have to make some difficult decisions", he warned."All the options are still on the table, and when we say this, we mean it," he continued.White House spokesman Tommy Vietor said he was "not going to comment on intelligence matters" after being questioned about the NIE findings.Israel has been steadfast in its assertion that it will launch a pre-emptive military strike against Iran's nuclear program. While the United States maintains it will do everything within its power to stop the Islamic Republic from developing a nuclear weapon, Washington has urged Israel to give the sanctions regime against Iran more time to take effect.However, signs that Israel is losing patience became apparent during a meeting between Israeli Prime Minister Benjamin Netanyahu and the US defense secretary, Leon Panetta, last week."Right now the Iranian regime believes that the international community does not have the will to stop its nuclear program," he said "This must change, and it must change quickly because time to resolve this issue peacefully is running out.""Neither sanctions nor diplomacy has yet had any impact on Iran's nuclear weapons program," Netanyahu continued.While Panetta maintained that the US would keep all options on the table, whether the latest NIE report indicates the US is leaning towards a military solution remains to be seen.The NIE is an "estimative" product compiled by 16 US intelligence agencies intended to inform the US president and other top government officials on the likely course of future events.A 2007 NIE report on Iran actually derailed Israeli efforts to rally the international community against Tehran after it found the country had suspended its nuclear weapons program in 2003 and had made no efforts to bring it back online.However, the latest NIE findings could mirror a US military source who claimed the US and Israel had already drawn up war plans against Iran.