Instability in Somalia results in new victims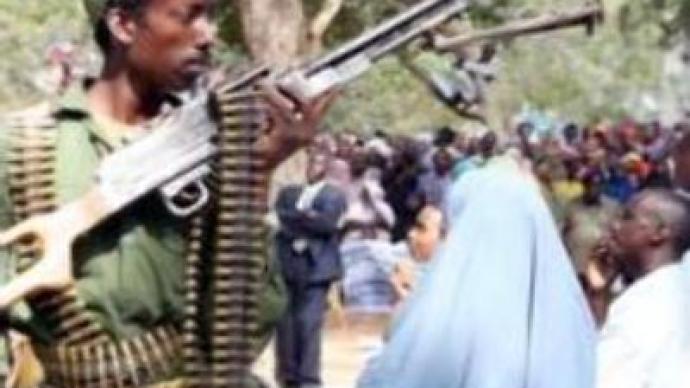 In Somalia's Mogadishu troops and demonstrators have exchanged fire, killing at least one person and injuring several others. The violence erupted after hundreds of people marched in the capital, calling for Ethiopian forces to leave the country.
Violence returned to the streets of Mogadishu on Saturday, less than a week after Islamic Court militias were driven from the capital. Witnesses said Ethiopian soldiers fired into the air to disperse stone-throwing youths.Demonstrators chanted anti-Ethiopian slogans, and called on Addis Ababa to stop interfering in Somalia. Some called for a return to Islamic law.
"We want Islamic rules,"
said one of Somali protesters.
"We want Ethiopians to be driven out of Mogadishu and out of the whole country because they have already destroyed Somalia and have killed our boys and fathers."
Plans to disarm gunholders by force have been postponed. A deadline for voluntary laying-down arms expired Thursday without achieving much success. Mogadishu is said to be awash with weapons, and violence has increased since government forces regained control.Meanwhile the U.S. Government has pledged $US 40 MLN to help stabilise the situation. A quarter of that sum is to fund an African Union Peacekeeping Force. Washington claims the Islamic Courts had links with Al Qaeda, but is now urging moderate Muslims to join the new Government.
"If there are moderates, part of the Courts, they should emerge, they should show themselves and become part of the future of the country,"
believes Jendayi Frazer, U.S. Assistant Secretary of State for Africa.
"But the Union of Islamic Courts, or the Council of Islamic Courts as such, the Shura, no longer exists."

In an internet broadcast, Al Qaeda's deputy leader is reported to have called for an Iraq-style insurgency. Ayman al-Zawahri urged Muslims in the region to join forces against the "crusaders" from Ethiopia.American navy vessels are anchored off Somalia's coast, searching for Islamic Courts militiamen. And Kenya has closed its borders with Somalia, deploying army patrols on the lookout for fleeing Islamic militants. It's still unclear whether the latest military action will end 15 years of near-anarchy in Somalia.
You can share this story on social media: