Indian president, 74, test flies Russian fighter jet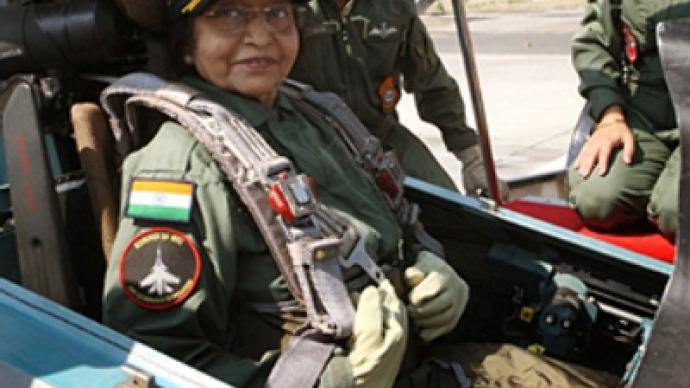 The respectable age of 74 didn't stop President of India Pratibha Patil from personally testing a fighter jet, the Russian-designed Su-30 MKI.
The two-seated aircraft was piloted by Wing Commander S. Sajan of the Indian Air Force. The flight in the airspace of the Lohegaon military base near Pune city lasted for half an hour, with the jet cruising at a 2 km altitude at speeds of about 900 km\h – just below supersonic.
After the flight on Wednesday morning, the Indian leader said she was absolutely comfortable wearing a pilot's anti-G suit and that the experience was "wonderful and unique." Afterwards she went for her late breakfast, which medics told her not to have before taking to the air.
President Patil became the country's first female to fly a combat aircraft, and she said she hopes the move will inspire the country and Indian women specifically pursue their dreams.
Su-30 MKI is a highly maneuverable air superiority aircraft designed by the Russian Sukhoi company for the Indian market. The first jets of this model were delivered to India in 1996, and now it is produced locally under a license by Hindustan Aeronautics Limited.
The Indian Air Force has more than 100 Su-30 MKIs, and the number is expected to reach 230 by 2015.
Patil's predecessor as the president of India, then 74-year-old Abdul Kalam, also flew a Su-30 MKI in 2006 during his term in office.
You can share this story on social media: