India temple stampede kills 115, injures 100 (GRAPHIC VIDEO)
At least 115 pilgrims including children were killed and more than 100 injured in a stampede at a temple in Madhya Pradesh. The stampede was allegedly caused by panic after worshipers thought a bridge at the temple was about to collapse.
At least 50 of the victims were apparently crushed to death in the stampede itself, while others drowned in the river after jumping off the bridge, according to local officials, who fear the death toll will rise.

It is not yet clear exactly what caused the panic on the bridge. Sources cited by NDTV claim that a group of people spread the rumor that a bridge was collapsing to cut in line at the temple. 
"We have counted 100 bodies so far. Several pilgrims died on way to hospital. The toll may rise manifold," a senior police officer told the Times of India.

Meanwhile, the Hindustan Times reported eyewitnesses as saying that the stampede started after policemen used their lathi batons to control the crowd.

Some 50,000 Hindu pilgrims were on their way to the Mandula Devi temple to attend a ceremony during an annual festival to the goddess Durga. The temple is 60 kilometers from Datia, the capital of Datia District in Madhya Pradesh state.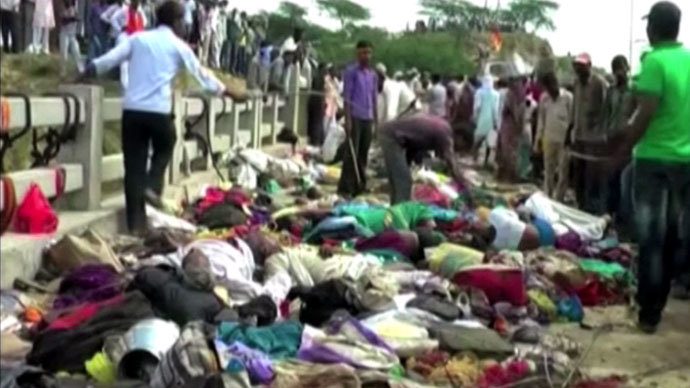 A rescue operation is reportedly taking place at the site, with police recovering dead bodies and sending the injured to hospital.    
People upset over the incident and the police's response reportedly started pelting officers with stones.

Seven years ago, at the same bridge and during the same festival, 35 pilgrims died after being swept away by the unexpected release of water from a dam.

India has a notorious record of stampedes at religious events.

Thirty-six people were killed in a stampede in northern India in February, where millions of pilgrims flocked for a major Hindu festival.

Some 102 Hindu devotees were killed in a stampede in January 2011 in the state of Kerala. A total of 224 pilgrims died in September 2008 as thousands of worshipers were trampled to death trying to reach a hilltop temple in the northern town of Jodhpur.