Hundreds violently protest rape of seven-year old girl in India (VIDEO)
A protest against the rape of a seven-year old girl in India turned violent on Friday, as hundreds of people threw stones and damaged several vehicles. Police responded by using batons against demonstrators. Several policemen and locals were injured.
The rally took place outside the Delhi hospital where the victim was admitted.

Around 500 people gathered to protest the rape, which occurred on the campus of the girl's government-run school on Thursday, NDTV reported. Demonstrators alleged that police were not actively pursuing the case or arresting the suspected culprit.

Many of the protesters threw stones at vehicles and broke police barricades. At least three government-run buses, police vans, and private vehicles were damaged in the incident.

As the demonstration spread, the gates of the hospital were closed. Large numbers of police were deployed to the area.

Despite allegations from angry protesters, North Delhi Municipal Corporation (NDMC) promises it is doing all it can to find the suspect.

"We are looking into the matter and gathering more details. The information is sketchy at this point but if someone from the school is found guilty, we will take immediate action," Mahendra Nagpal, Leader of the House in NDMC, told PTI news agency.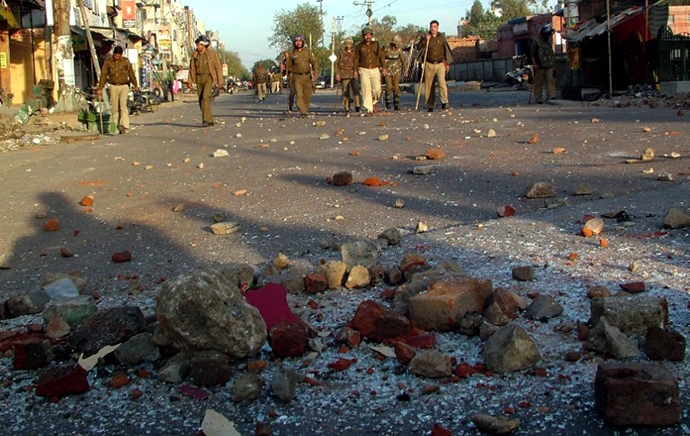 The victim was taken to Sanjay Gandhi Hospital soon after the crime was reported, where a medical examination confirmed that she had been raped. The girl was later discharged.
The seven-year-old could not identify the suspect. Two male teachers and a school guard have been questioned, according to local officers.
But the local government's efforts aren't good enough for those who demand a long-term solution to India's growing rape problem.
National Commission for Women Chairperson Mamta Sharma says incidents like these are on the rise, and insists that lawmakers must implement strict punishment for offenders.
"This is a case of rape of a seven-year-old girl. I believe that tough action should be initiated...I will send the matter for enquiry in two to three days," Sharma said.
The protests came as India's parliament held a debate over the rape and murder of three young sisters in the state of Maharashtra last month. No one has yet been arrested, prompting opposition MPs to criticize the slow investigation.
A wave of nationwide protests was sparked by the brutal rape of a 23-year-old girl in December, who was attacked in a public bus in south Delhi.  
Government statistics indicate that a woman is raped every 20 minutes in India, although the country's conviction of rapists is one of the lowest in the world.
You can share this story on social media: