Delhi gang-rapists tried to run over their victim - police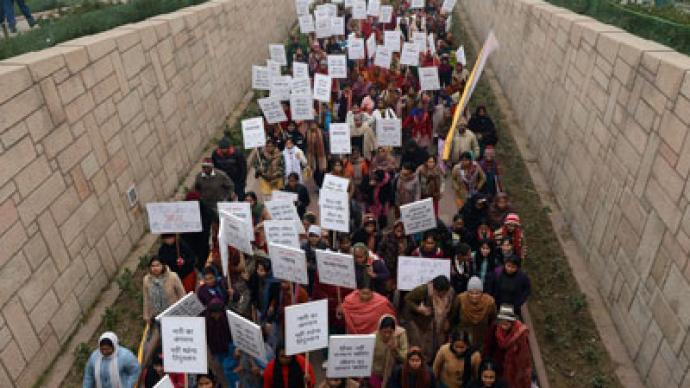 Criminals, who savagely gang-raped a woman on a bus in New Delhi last month, tried to run her over, police revealed. Amid continuing protests, some are calling for a new rape law to be named after the 23-year-old victim.
The victim's 28-year-old boyfriend managed to pull the woman aside from under the wheels of the bus just in time, police said. The crime happened on December 16, when the 23-year-old woman and her 28-year-old male friend were beaten with iron rods by six men on a bus heading from the Munirka area of Delhi to Dwarka. The men gang-raped the female victim for almost an hour and then threw the couple from the moving bus.The young woman died several days ago from organ failure in hospital in Singapore, following serious injuries to her body and brain. She underwent several operations but ultimately succumbed to the trauma of the assault after 13 days. The rape case has become the focus of protests across India, rallying for greater protection for women and tougher laws on sexual violence. India's junior Education Minister Shashi Tharoor has proposed naming a new law after the Delhi rape victim unless her parents object. However, the authorities have still not released the woman's name. "Wondering what interest is served by continuing the anonymity of the Delhi gang rape victim. Why not name and honor her as a real person with her own identity?" Tharoor wrote on his Twitter. Six men have been arrested, charged with the rape and murder of the woman. Five of them could face the death penalty, according to the police. While the sixth is under 18, meaning he will be tried in a juvenile court, although he's yet to undergo a bone test to determine his age, according to AFP.
Common anger reached a hot point, when three men allegedly wanted to plant bombs at the house of the prime accused in Delhi gang-rape case, police said. One of the plotters was arrested on Monday, two crude bombs were recovered from him.Officials have reportedly announced a series of measures aimed at making the city safer for women, including more police night patrols, checks on bus drivers and their assistants, and the banning of buses with tinted windows or curtains. The government has also set up a 13-member committee under a retired Supreme Court judge to recommend changes to the criminal law dealing with sexual crimes. India's top court also said it could suspend lawmakers facing sexual assault charges.But the core of the problem is seen by many protesters in the fact that women are viewed as second-class citizens, and only a fundamental change in culture and attitudes to women backed up by law could protect them.New Delhi has a strong reputation as India's rape capital, with a report from the Hindustan Times documenting more than 20 rape cases since December 16 in the city.Victims of gang-rapes often do not come forward to the police in India for fear of shaming their families or being ignored by police. Moreover, cases are so widespread that they are rarely covered by the press.Since the news of the brutal gang rape and murder broke in December, almost 300 Delhi women have applied for gun licenses, Delhi police said. Some 1,200 more have called the licensing department to inquire how to obtain one. Hundreds turned up at the police department seeking permission to get a gun for self-defense.
You can share this story on social media: