Indians see red over $82 mln Mars mission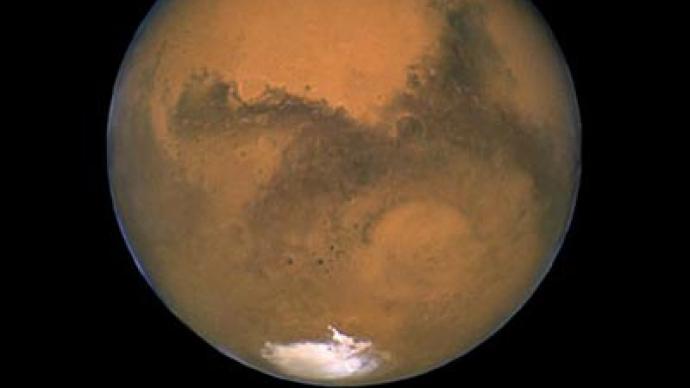 India plans to launch a research satellite to Mars next year at an estimated cost of $82 million, money which critics say would be better spent on battling poverty in a country where people lack electricity and clean drinking water.
The Indian Space Research Organisation (ISRO) anticipates launching the Mars research mission in 2013 using the Polar Satellite Launch Vehicle rocket. The scientist hope the satellite would orbit less than 100 km above Mars and take pictures of the red planet that would be analyzed back on earth. In order to insure success, the current head of India's space agency, K. Radhakrishnan says the Mars mission must take place when the planet is closest to Earth, which happens every 26 months, the next one in 2013.While India's 2013 mission will be unmanned, the country's space program is seeking budgetary approval for sending astronauts to Mars, tech site Mashable reported."Our spaceship will go near Mars and collect important scientific information," Prime Minister Manmohan Singh said in his annual Independence Day address, proclaiming the project as "a huge step for us in the area of science and technology". New Delhi's ambitious space programme succeeded in placing a probe on the moon three years ago.The country's space program is considered a source of a national pride, yet the country's new cosmic ambitions have attracted a lot of criticism of how this money ought to be spent."More attention needs to be paid to the poor on issues such as health, drinking water and literacy," Bindeshwar Pathak, India's most noted welfare activists, told AFP. "Going to space might have some scientific benefits but it alone will not help the condition of India's poor."Around a third of the total Indian population lives below the international poverty line, according to the World Bank. Furthermore the latest UN data shows that a third of malnourished children worldwide are found In India.The country also fails to provide basic infrastructure. In late July, India faced the largest series of blackouts in a decade as the three electricity grids that serve more than 600 million Indians collapsed. But despite all the trouble, the Indian space explorers say that technology used in the space program has resulted in economic spinoffs in other areas of the country."It is certainly not a question of misplaced priorities," former ISRO chief U.R. Rao told  The Asian Age newspaper.If next year's attempt is successful, India will become an important member of the Mars exploration club following the footsteps of programs from Russia, United States, Europe, with Japan and China also joining the race.
You can share this story on social media: