France rocked by arrest of IMF chief on sex assault charges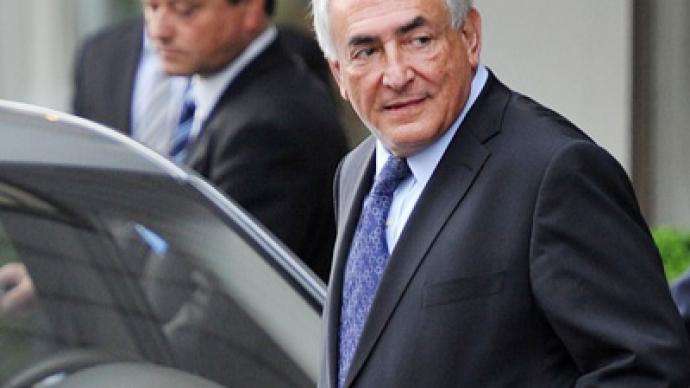 ­The head of the IMF and a potential French presidential candidate has been arrested and charged with a sexual attack, attempted rape and unlawful imprisonment. Dominique Strauss-Kahn was pulled from a plane after allegedly assaulting a hotel maid.
According to New York police (NYPD) spokesman Paul Browne, the 32-year-old maid filed the complaint after escaping from Strauss-Kahn's $3000-a-night hotel suite at the Sofitel on Times Square.Browne told Reuters: "She told detectives he came out of the bathroom naked, ran down a hallway to the foyer where she was, pulled her into a bedroom and began to sexually assault her.  She pulled away from him and he dragged her down a hallway into the bathroom where he engaged in a criminal sexual act, according to her account to detectives. He tried to lock her in the hotel room."According to the NYPD, when they arrived at his suite, Strauss-Kahn had already gone, having left his phone and other personal belongings in the room, which was, according to them, evidence of him leaving in a great rush. Later he was pulled off an Air France flight to Paris just ten minutes ahead of take off. As Strauss-Kahn does not have diplomatic immunity, he will be taken to a state court on Sunday. Strauss-Kahn's lawyer says he will plead not guilty.This scandal is a great embarrassment for the IMF where 62-year-old Strauss-Kahn had assumed office as the tenth Managing Director on 1 November 2007.  A former French finance minister, member of the French National Assembly and a professor of economics, Strauss-Kahn was also considered a possible Socialist candidate for the French presidency. Although DSK, as he is known in France, had previously been dubbed by local media as a "great seducer", this image had never hurt his career in France, where the public does not scrutinize the family life of politicians as is custom in other countries.The married father of four had not yet officially announced that he would run for presidency, but at the moment some rivals and political observers say this incident could bury any presidential bid for him. DSK was considered the strongest potential challenger to unseat the unpopular President Nicolas Sarkozy in next year's election.Some politicians urged caution pending further investigation. A few even suggested that Strauss-Kahn may have been set up. Segolene Royal, who beat Strauss-Kahn for the Socialist nomination in the 2007 elections and is considering another bid, said: "Dominique Strauss-Kahn has the right, like everybody, to the presumption of innocence. We have to allow justice to do its work in complete serenity. My thoughts go to the man in this difficult time and to his family."However, even his political allies have expressed pessimism over the whole scandal with prominent Socialist Jacques Attali saying, "The most likely outcome is that this case will stick and even if he pleads not guilty, which he may be, he won't be able to be candidate for the Socialist primary for the presidency and he won't be able to stay at the IMF," as quoted by Reuters.This is not the first time Strauss-Khan has been investigated over improper relations with women. He was briefly investigated in 2008 on allegations that he had forced a subordinate into a relationship and later made her quit working at the IMF. However, at that time he was cleared of harassment and abuse of power, as the relationship was deemed consensual.
Political writer Jean Bricmont says that Strauss-Kahn's career as a presidential candidate is finished, even if he is proven innocent. "As a presidential candidate, even if he is cleared of charges, there will be too much suspicion… and there are many other problems with him," he said. "Having a Socialist who is a president of the IMF is very strange because the IMF is not a neutral institution, but a very pro-capitalist and pro-free market institution. He is very wealthy himself. So if somebody like that is to represent the Socialists, he is opening the boulevard to the far right, who are claiming that the Socialists and the party of Sarkozy are the same."
French politics expert Nabila Ramdani says any hopes Strauss-Kahn had of winning the French presidency are now effectively over."He was indeed going to announce his candidacy for the 2012 presidential elections, and I think these allegations will come as a huge blow for the French Socialists, who really saw him as the great hope to succeed President Sarkozy," she said. "I don't think that at this stage Dominique Strauss-Kahn will even think of running for president, because it will prove extremely difficult to juggle allegations of sexual assault and rape with a presidential campaign. I think President Sarkozy is an obvious candidate to benefit from this scandal, although he is very low in the polls… it will reassure him, give him more confidence to tackle the presidential elections with much more strength."
Gerald Celente, director of the Trends Research Institute, told RT it may be a dirty trick by Strauss-Kahn's political rivals. He also stated that the IMF head has quite a number of ill-wishers abroad."Let us not forget that Strauss-Kahn caused a lot of uproar in the US recently when he announced that the US is losing its supremacy as the economic world power and China will be taking over," Celente noted. "He has a lot of enemies here."Celente declared that it is highly likely Strauss-Kahn's career is finished."But very rich men live by different rules than common people, and there is no level of humiliation too low for them to stoop to before they bounce back," he noted. "Just look at the cast of presidential characters, senators, congressmen and governors that have also been caught with their pants down.""What the IMF chief is doing is basically what the IMF does – they rape countries, and in this case he may have raped a person," added Celente. According to Celente, the scandal may turn out to be fortunate for Sarcozy."Sarcozy's chances, even though he is way down in the polls, will be improved by the absence of Strauss-Kahn," he said.
You can share this story on social media: