Icelandic MP planning Bradley Manning support trip despite US legal threats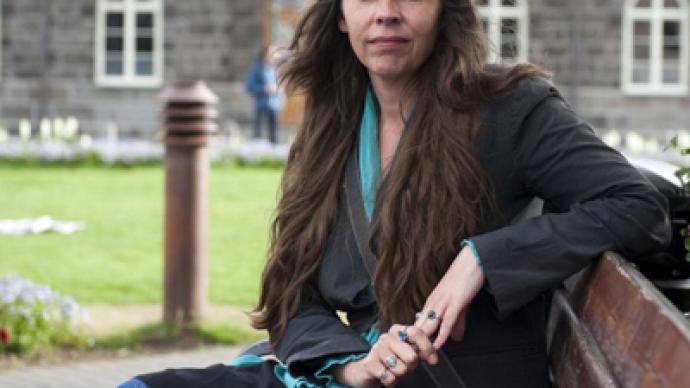 Despite potential legal retribution from American authorities, the Icelandic MP and WikiLeaks member who released the infamous 'Collateral Murder' video showing US war crimes in Iraq has announced plans to visit the land of the free.
Birgitta Jonsdottir is an Icelandic Member of Parliament who nearly three years ago released a classified video of a US Apache helicopter killing civilians in Iraq. Known as 'Collateral Murder,' Jonsdottir made the footage public in a bid to express her support for Bradley Manning, the video's alleged source, who now stands trial for treason. The video was also instrumental in unleashing the witchhunt on WikiLeaks and its founder, Julian Assange.  Jonsdottir is planning to arrive in the US on April 5, despite a strong warning from Reykjavík of possible legal repurcussions. The politician says her trip, which coincides with the third anniversary of the video's release, is her way of saying she refuses to live in fear."I don't want to live in the shadows. I don't think I've done anything illegal or that I'm an enemy of the US state, but if they think I've committed a crime, I want to know," she told The Guardian.Jónsdóttir also plans to exhibit photographs drawn from the 'Collateral Murder' on her itinerary in New York and Los Angeles. In June, the MP hopes to take the exhibition across the US ahead of Manning's trial."It's deeply troubling to me that he is the only one suffering the consequences – none of the people responsible for the war crimes in the video have been held accountable," Jonsdottir says.Following the release of the video, Washington has tried repeatedly to gain access to Jónsdóttir's private information. In 2011, Twitter was forced to release her user data after a subpoena from Washington demanded personal data from her feed dating back to 2009.Jonsdottir became the subject of US attention in 2010 when she helped Assange prepare the footage of the Apache attack allegedly leaked by Manning, who was deployed in Iraq at that time. She was responsible for organizing the volunteers, researched details of the footage of a US airstrike in Baghdad on July 12, 2007, and selected stills for distribution to the media. Eight men were killed in the attack, including two Reuters correspondents. After the video's release, Manning was arrested as the suspected source of the video and a large cache of diplomatic cables that he'd allegedly leaked to Assange. Manning now faces 22 counts of breaching national security, charges punishable with up to life in prison with no chance of parole.Earlier in February, it was revealed that Iceland refused to cooperate with an FBI investigation into WikiLeaks back in August 2011, with the Icelandic interior minister having "made it clear that people interviewed or interrogated in Iceland should be interrogated by Icelandic police."
You can share this story on social media: