Palestinians protest Israeli detention of woman without charges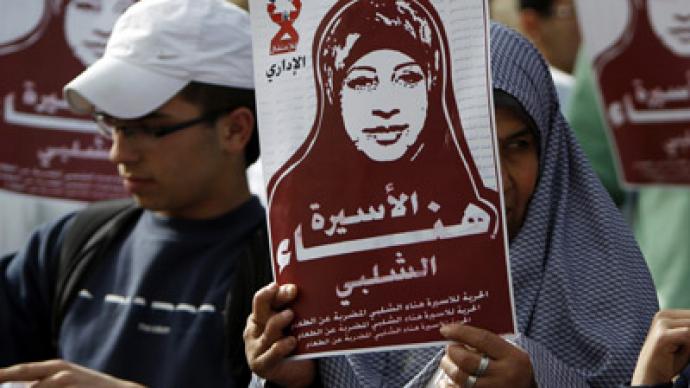 The Gaza Strip saw a demonstration on Wednesday as Palestinians expressed their solidarity with Hana Shalabi. She was detained by Israel in February with no charges or trial, and has been on a hunger strike for over 40 days.
Protesters marched on the office of the International Committee of the Red Cross in Gaza. The Wednesday rally continued a series of protests by Palestinians in the West Bank calling for Shalabi's release. The 30-year-old was rearrested in February and held without charge after having already spent 25 months in administrative detention, both times without any charges being brought against her. Last year, she was released as part of a deal which saw over 1,000 Palestinian prisoners freed in exchange for the release of Israeli soldier Gilad Shalit, who had been held captive in Gaza for five years. Several other released detainees were rearrested along with Shalabi.  Recently Israel rejected an appeal against her detention.Shalabi went on hunger strike in protest and has now been fasting for weeks. Her condition was earlier described as grave and "close to death." She lost 14 kilograms (31 pounds), and was reported to be taking only water since her arrest on February 16.Shalabi also complained of repeated mistreatment. Her lawyer said she was placed in solitary confinement as punishment for the hunger strike. Dozens of Palestinian prisoners held in Israeli jails have joined a hunger strike to show support for Shalabi, said the Palestinian Prisoners' Club NGO said on Tuesday. And her own decision to go for it was inspired by another Palestinian detainee, Khader Adnan, 33. He attracted worldwide media attention after he spent more than two months on hunger strike to highlight the plight of fellow Palestinians in similar circumstances.However, observers argue that the protests fall on deaf ears not only with Israelis, but with Palestinians themselves, explaining that along with other reasons, they do not receive media coverage. "Most of the people in the general public don't know about the hunger strikers," Abdul Kassem, a political science professor, told the United Arab Emirates-based The National. And among the possible motives for the Palestinians' indifference to the issue, consumption and financial well-being are common conjectures.The UN's Richard Falk said in a column published on Al Jazeera's website last week that the hunger strikes "have been met with silence or indifference" despite "frequent mentoring to Palestinians by liberals in the West to rely on non-violent tactics of resistance." He called on the international community to "do more than stand and watch as this tragic drama plays itself out."Thousands of Palestinian prisoners are reported to be held in Israeli jails, many of them with no charges or trial, according to the Palestinian Central Bureau of Statistics and prisoner advocacy groups.
You can share this story on social media: