Humanitarian concerns not on NATO's agenda – ex-Belgian MP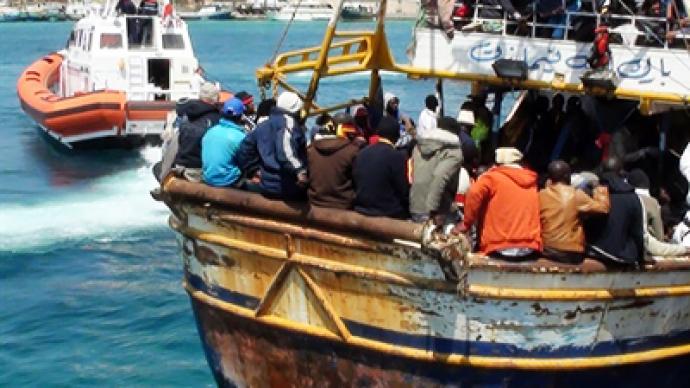 A Libyan boat carrying up to 600 people trying to flee the violence-torn country has reportedly sunk off the coast of North Africa, which raises concerns about the lack of humanitarian assistance on the part of NATO.
Earlier, 61 migrants from Libya died from thirst and hunger on another vessel which had been drifting in the Mediterranean Sea for over two weeks,according to a report in the Guardian. NATO military units and ships allegedly ignored SOS calls from the boat trying to reach Italy's Lampedusa Island, despite the sea law that obliges any vessel that gets the distress signal come at help.As no help was given to the distressed vessel, all but 11 of those on board died from thirst and hunger.Lode Vanoost, former Deputy Speaker of the Belgian Parliament, says all these events are only logical, as humanitarian concerns are not on the agenda of NATO. "You're talking about the most sophisticated technological army in the world, and they would not be capable of finding some boats at sea, while they have operations chasing pirates on the coast of Somalia, while they can spot one single tank in a city? I highly doubt that," Vanoost says.Letting the boats sink at sea is not the way to block migration, says Vanoost. Besides which, he is not sure whether migration is in fact becoming such a big issue that it should be stopped or it is a problem partly created by the politicians. "It's true that the right-wing governments that are now predominant in the European Union make migration a big issue," he says.The flow of refugees from the war-torn country is quite understandable, explains Vanoost. "As far as I can tell, these people flee the regimes that we have kept in place in the first place. It is only a human reaction to a desperate situation. Bombing these countries would not help. On the other [hand], what we could do is help Tunisia and help Egypt, the democratic movements there, and that would send a clear signal to the revolts in other countries," Vanoost concludes.
You can share this story on social media: