Human Rights Watch: CIA torture cover-up in Libya revealed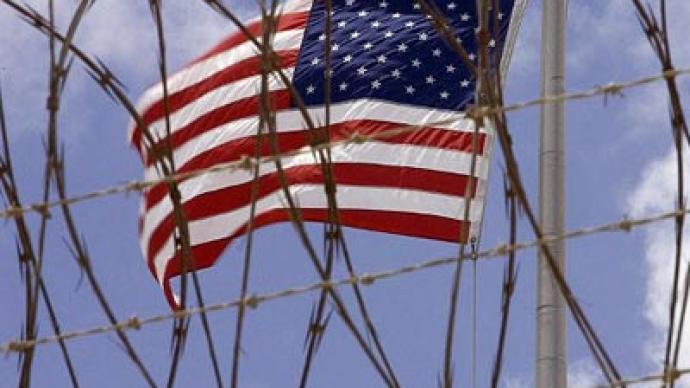 Human Rights Watch (HRW) has revealed new evidence of a US torture cover-up, showing the West snatched Gaddafi's opponents from African and Asian countries, then tortured them at secret CIA prisons as part of post-9/11 Bush-era policies.
HRW's new 156-page report titled "Delivered into Enemy Hands: US-Led Abuse and Rendition of Opponents to Gaddafi's Libya" argues that the US government covered up the extent to which waterboarding was used as torture.The report consists of 14 interviews with former US detainees who were sent back to Gaddafi's security police around 2004, mostly members of the Libyan Islamic Fighting Group (LIFG). LIFG had been attempting to overthrow Gaddafi's regime for the past 20 years and now have joined the ranks of the new Libyan administration.
The new report uses as sources documents seized after the fall of Gaddafi's regime at the Libyan intelligence headquarters. They reveal previously-unknown instances of waterboarding by the CIA that took place nine years ago in Afghanistan. Original documents and correspondence are attached to the report and show organized cooperation between the US, UK and other Western countries with Gaddafi's regime.
"The documents are significant because they shed light on the still-opaque CIA renditions program, identify former detainees by name, and provide corroborating evidence…most notably confirming the involvement of the US, the UK, and other governments," stated the report.The documents "show a high level of cooperation between the United States, the United Kingdom and the government of former Libyan leader Muammar Gaddafi on the transfer of Gaddafi's opponents into Libyan custody."Allegedly, this cooperation was formed after Gaddafi gave up nuclear ambitions and agreed to help fight Islamist terrorism, The New York Times reported.
'Chained to walls naked, diapered, beaten, denied food and sleep'
HRW describes grave abuses committed by CIA almost a decade ago, which included "being chained to walls naked — sometimes while wearing diapered [sic] — in pitch dark, windowless cells, for weeks or months at a time; being restrained in painful stress positions for long periods of time, being forced into cramped spaces; being beaten and slammed into walls; being kept inside for nearly five months without the ability to bathe; being denied food and being denied sleep by continuous, deafeningly loud Western music," the report found.
This report undermines previously-made claims by current and former CIA officials that only three terrorist suspects were waterboarded, none of them Libyan, while being held in US custody. Further it casts doubt on a three-year criminal investigation of the CIA interrogation program, which was concluded last week by the US Department of Justice without any charges being filed. HRW researchers used the names in the discovered documents to track down past US detainees transferred to Libyan custody and interviewed them. This revealed new information about a US detention center in Afghanistan, interrogation methods and rendition operations.Many of those people detained now live freely in Libya and occupy new government positions.
For example, one of those interviewed in the report, Khalid al-Sharif, is now the head of the Libyan National Guard.He describes being held in the CIA detention center in Afghanistan for two years and then handed over to Gaddafi in 2005. "I spent three months getting interrogated heavily during the first period [in US custody] and they gave me a different type of torture every day. Sometimes they used water, sometimes not," HRW quotes him as saying."Sometimes they put a hood over my head and they lay me down and they started to put water in my mouth… They poured the water over my mouth and nose so I had the feeling that I was drowning… I felt as if I was suffocating."
US statements that waterboarding was used only for 20 to 40 seconds at a time on three terrorist suspects are also called into question with Mohammed Shoroeiya's interview. He was detained in Pakistan in 2003, transferred to Afghanistan while in US custody, and then given up to Libyan authorities. Shoroeiya described torture techniques used on him, including putting a hood over his head, strapping him to a wooden board, and pouring water over his face for what "felt like three minutes."HRW writes about doctors being present during interrogations controlling the amount of torture being inflicted. They monitored captive's body temperature and when it got too low, they ordered warm water to be added to the cold.
HRW's conclusions
"The allegations cast serious doubts on prior assertions from US government officials that only three people were waterboarded in US custody," said HRW. "They also reflect just how little the public still knows about what went on in the US secret detention program."Further, HRW argues that this report highlights George Bush's administration's failure to differentiate between Islamists behind 9/11 attacks and those engaged in an opposition fight against their respective regimes. "This failure risked aligning the United States with brutal dictators and aided their efforts to dismiss all political opponents as terrorists," the report concluded.
CIA response
The CIA has flatly denied the allegations about the widespread nature of its mistreatment of captives."The agency has been on the record that there are three substantiated cases in which detainees were subjected to the waterboarding technique," said Jennifer Youngblood, a CIA spokeswoman."Although we cannot comment on these specific allegations, the Department of Justice has exhaustively reviewed the treatment of more than 100 detainees in the post-9/11 period – including allegations involving unauthorized interrogation techniques – and it declined prosecution in every case," she added.
You can share this story on social media: