"Matrix" has you: hooked on the web end up in clinic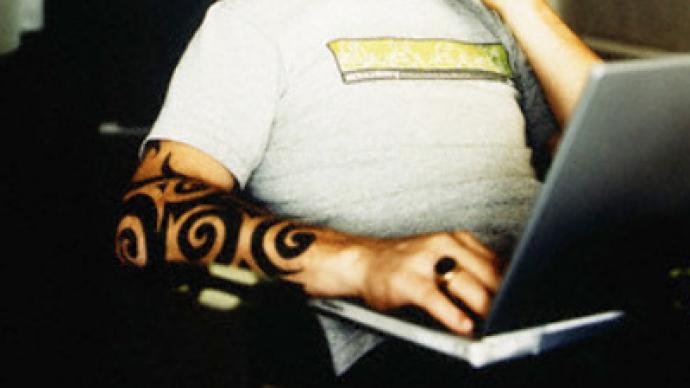 With the benefits of the virtual world comes its perils, and Internet addiction is fast becoming one of them. To combat the growing phenomenon, doctors in Rome recently opened Europe's first net addiction clinic.
Can't stop checking your 'Crack'Berry? Obsessively tweeting? Loosing sleep to online games? The extent and influence of Internet compulsions in a person's real life have been under debate for years. But what is the appeal of the Internet and why has it got so many Netizens hooked?
Two things: unlimited information and a complete sense of personal freedom. Some go online to access unrestricted, infinite amounts of information, like news, music, films and more. Others connect to the virtual world because it's a place where they can do whatever they want, say whatever they want and be whomever they want.
While the international medical community continues to debate whether Internet addiction can be classified as a true and valid psychological disorder, thousands, perhaps even millions, of individuals worldwide are hooked on the net—and they are starting to seek help.
What is Internet addiction?
Most physicians agree that there's a problem when a person lives much of their life online, and when excessive net use interferes with daily life and interpersonal relationships. Like other addictions involving drugs, alcohol or gambling, the Internet provides escape and diversion from the real world and its problems.
Internet Addiction Disorder (IAD) was first identified by Dr. Ivan Goldberg, a New York City psychiatrist in 1996. Goldberg said IAD is not a recognized medical addiction like alcoholism, but "more like an out-of-control behavior that threatens to overwhelm the addict's normal life."
This is when the lines between the virtual and the real become blurred, and users stay online for hours, even days, because they don't want to miss anything in cyberspace. This need to not 'miss anything' recently turned fatal for a 28-year-old Korean man, who died after not sleeping or eating during 50 hours of non-stop online gaming.
Psychologists are still undecided on when net use is 'too much' and there is still no accepted definition of the disorder, nor are there standards for diagnosis or treatment. The most common net compulsions are a pathological and obsessive need for online gaming, shopping, chatting, tweeting, social networking, and incessantly checking emails.
Doctors note, however, that those most at risk for net addiction already suffer from other dependencies and can exhibit signs of already existing disorders, like depression, social phobias, low self-esteem, and other anxiety-related disorders.
When users get real
Internet addiction rehabilitation clinics are springing up across the globe and are offering services to those who want to 'reconnect' to reality. Today, there are hundreds of specialized net addiction centers in Japan, Korea and China, and more recently in the United States.
The ReSTART clinic, near Seattle, offers 45-day in-patient treatment for the price of $14,000. Here, patients get counseling, massages, feed and tend to farm animals, and take long walks to reconnect with nature.
China, which recently expressed concern over a huge jump in the number of teenage net addicts, has over 400 clinics that are dubbed 'training camps' or 'boot camps'. However, the majority are not licensed and their practices have started to raised concern, especially after a 16-year-old boy died last August in a camp in the Guangxi Zhuang Autonomous Region. He was said to have died after being beaten by supervisors.
Italy is the first to offer state-funded care for net addiction. The clinic opened in Rome on November 2 in one of Italy's largest state-funded medical centers.
Italy's 'cure' for wired compulsions
The rehabilitation clinic is located in the Italian capital's Policlinico Gemelli hospital, which also treated Pope John Paul II, and treats people suffering from Internet Addiction Disorder (IAD). Heading the clinic is Dr. Federico Tonioni, who spoke to RT about the clinic.
"I wanted to open the clinic because there has been increased international attention in the past few years about the phenomenon, especially regarding the negative effects of online gaming. IAD is a pathological addiction just like the other addictions we treat at the clinic. The clinic mainly treats drug addiction, but now we have extended our services to also treat Internet addiction because we consider it a problem that requires treatment."
Internet addiction is on the rise worldwide, especially among youths. Dr. Tonioni cites the worsening Chinese experience where, according to the China Internet Network Information Centre, some 55 million teens are said to be addicted to online games. Also, it has been estimated that some 10 percent of users of Facebook, the world's most popular social networking site, are at risk for developing a dependency.

And it shows. After just two days of being open, people have already started to request more information on treatment. "The phone is ringing off the hook because everybody wants to know more about the clinic. But I don't want to cause alarm over a looming pandemic; there has been only a moderate number of requests so far. In these first two days, we booked about 6 or 7 individual appointments with prospective patients," the Rome-based psychiatrist told RT.
IAD exists when being connected becomes paramount in net users' lives and online activities take precedence over real life. However, this does not happen to everyone, Dr Tonioni stresses: "I want to reiterate that the Internet is a formidable and highly useful communications tool. It allows some people, who have no social relationships in the real world, to develop their social skills online. In these cases, it is extremely useful."
"However, not everyone benefits from the Internet when it is used in excess; the disorder becomes evident when surfers make a break from or deny reality, when they exhibit signs of paranoia, or when social networking augments obsessive behavior and a lack of self-control in users, both in the real and virtual worlds."
To treat the disorder, surfers need to reconnect to reality and re-experience direct human contact, communications and socialization in the real world, Dr. Tonioni says.
Brenda Dionisi for RT
You can share this story on social media: