Tens of thousands march in rival protests over Hong Kong's leader (PHOTOS)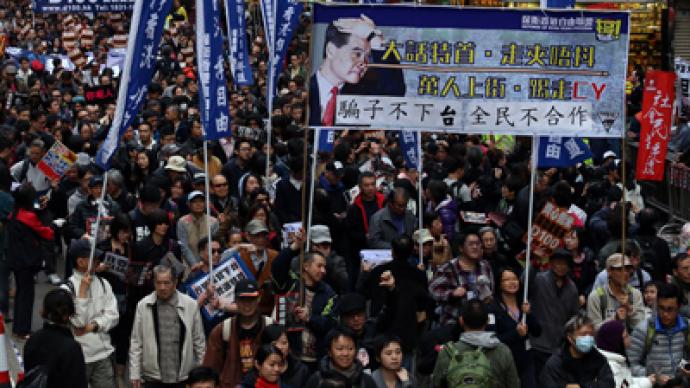 Up to 130,000 people have held rival marches in Hong Kong both for and against the city's chief executive, Leung Chun Ying. Those protesting against him say he has misled the public over a controversial real estate issue.
­Organizers of the march calling for Leung's impeachment estimated their numbers at 130,000, although police put the figure at a more modest 26,000 at its peak.Supporters of Leung who organized a follow up march reported that over 60,000 turned out, although police again downsized the figure to about 8,000.Some of Leung's supporters roughed up a couple of local journalists who they believe were biased in favor of democracy at a separate rally, but the two main marches passed off peacefully.Leung's critics say he should step down over allegations he lied about illegal renovations to his mansion. Leung secretly extended his $64 million home without getting government planning permission or paying real estate fees. He is accused of lying about it during last year's election campaign and even built a false wall to try to conceal it.Leung has been widely accused of hypocrisy over the issue, as he won the election on July 1st last year by criticizing his opponent, Henry Tang, for the unauthorized building of a huge basement for a villa owned by his wife.Tang didn't get government planning permission either, which is difficult to obtain without making large payments to the government, which owns most of the land in Hong Kong and collects lease payments based mainly on the square meterage of developments.Leung's critics also accuse him of being a puppet of Beijing. The chief executive is chosen by a panel of 1,200 business leaders and other groups, who are mostly Beijing loyalists, while the legislature is half elected by the public and half by business groups."As Chief Executive, he cannot convince the public that he is a leader with credibility. [He] is not honest," said Sandy Chung, a clerk who was at the anti-Leung protest.Another demonstrator said he was frustrated at having no say in who the city's leader was."We don't even have a vote, he is elected by a small group of people. We cannot use our voting right to express our view no matter how his performance is," said Calvin Tse, a designer.Leung's backers on the other hand, many of whom are connected to groups with financial support from Beijing, argue that he is beginning to address deep-rooted social issues. They also suggest that democracy is a western concept, which is not compatible with fast economic development or local culture.
A protester dresses as a cultural revolution red guard wearing a wolf mask during a protest urging Hong Kong's Chief Executive Leung Chun-ying to step down in Hong Kong January 1, 2013 (Reuters / Tyrone Siu)Leung appears to have the confidence of leaders in Beijing despite a series of controversies in Hong Kong. The island is a semi-autonomous territory that Britain returned to Chinese rule in 1997.Both the Chinese president, Hu Jintao and Xi Jinping, who became General Secretary of the ruling communist party in November and is expected to become the next Chinese president in March have said separately that they support Mr. Leung and his administration.Among the protesters at the anti- Leung rally a few old colonial Hong Kong flags could be seen from when the Island was ruled by the British. Beijing has asked Hong Kong residents not to display the flag, which they see as a symbol of past humiliation.However, a young office worker who was who was on the anti-Leung march sporting a small old colonial flag  said she didn't want to go back to British rule but was nostalgic for "the golden days of Hong Kong," it was reported by the New York Times.She explained that in those days the economy seemed to offer more chances for young local people and the islander's seemed to have a greater autonomy to decide their own fate.Many Hong Kong residents blame the government for growing immigration mainland China, which has caused overcrowding in local schools, has pushed up house prices and has made it harder for local people to find jobs.His supporters say that he has tried to tackle these issues in his first six months in office by bringing in steep tax rises on short term real estate investments on anyone who is not a local and by banning Hong Kong hospitals from scheduling any more births for mainland mothers.Hong Kong enjoys many western style civil liberties not seen on mainland China and Beijing has promised that Hong Kong will be able to directly elect its leader by 2017 and that the Island's legislature will be fully democratic by 2020.­
Anti-government protesters march through the Wan Chai district calling for new Hong Kong Chief Executive Leung Chun-ying to step down in Hong Kong on January 1, 2013 (AFP Photo / Alex Ogle)
A woman carries a placard of the city's leader Leung Chung-ying with her finger piercing his nose, as she joins protestors marching down the streets during an anti Leung Chung-ying protest in Hong Kong on January 1, 2013 (AFP Photo / Antony Dickson)
Pro democracy protesters walk past a tram during a New Year's day rally in Hong Kong on January 1, 2013 (AFP Photo / Aaron Tam)
Protesters wearing Guy Fawkes masks and holding colonial Hong Kong flags take part in a pro-democracy rally on New Year's day in Hong Kong on January 1, 2013 (AFP Photo / Aaron Tam)
Demonstrators sit on a main road running thru the central business district during a sit in protest against the city's leader Leung Chung-ying in Hong Kong on January 1, 2013 (AFP Photo / Antony Dickson)
Demonstrators sit on a main road running thru the central business district during a sit in protest against the city's leader Leung Chung-ying in Hong Kong on January 1, 2013 (AFP Photo / Antony Dickson)