HSBC wins eviction order over Occupy Hong Kong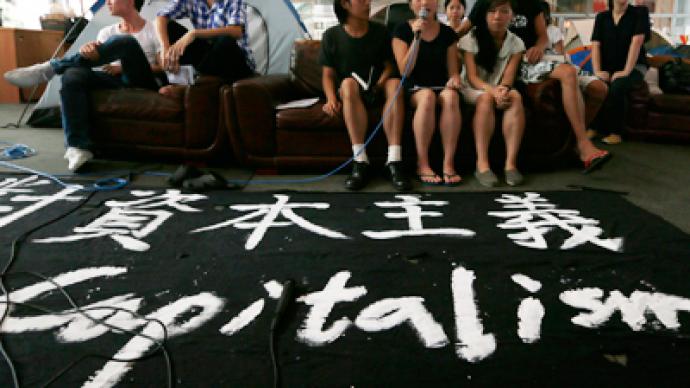 After almost a year of the Occupy Hong Kong protest in the HSBC building, activists are being evicted by a court order, citing use of the space extending beyond the land's designated use as the reason for the removal.
British multinational bank HSBC Holdings has won a legal bid to have members of the Occupy Hong Kong movement evicted from the open-air plaza below the bank's Asian headquarters in Hong Kong's financial center. Occupy activists are instructed to leave the premises by 9pm (13:00 GMT) on August 27. Even though HSBC owns the land of the ground floor, it is legally designated as a public passageway. The judge ruled that the activists' use of the space goes beyond the land's designated use as a thoroughfare.The protesters have been living on the ground floor of the Norman Foster-designed HSBC building since last October, when the Occupy Hong Kong movement joined the worldwide Occupy movement, which originated a month earlier in New York's Zuccotti Park. HSBC sought legal action after they were unable to convince the protesters to leave voluntarily. The protests in Hong Kong began with about 200 people living in the occupied space in tents with set-up couches, lamps, bookshelves and gas cookers. Now, 10 months after, a dozen of activists are staying strong while continuing to live on the ground floor. Members have vowed not to budge and continue their demonstration against corporate excess and economic inequality."We won't leave even if they [come] here to remove us and we'll hold a meeting tomorrow night to discuss how we'll deal with the eviction," Reuters quoted one of the core members of the Occupy Hong Kong movement, Leung Wing Lai, as saying."We've never asked permission from the law, we've never asked permission from the courts, we've never asked for permission from HSBC", Occupy activist Nin Chan said. "And, from the very beginning, we've never recognized these authorities as being legitimate, and from the very beginning we decided not to take orders from anybody that wants to evacuate us. We believe space should be opened up for common usage." Global eviction of Occupy protests have touched activists all over the world, including New York's OWS being evicted last November and London's Occupy movement being forced out of its Finsbury Square camp on June 14.
You can share this story on social media: