Thousands in Hong Kong protest 'brainwash' education reform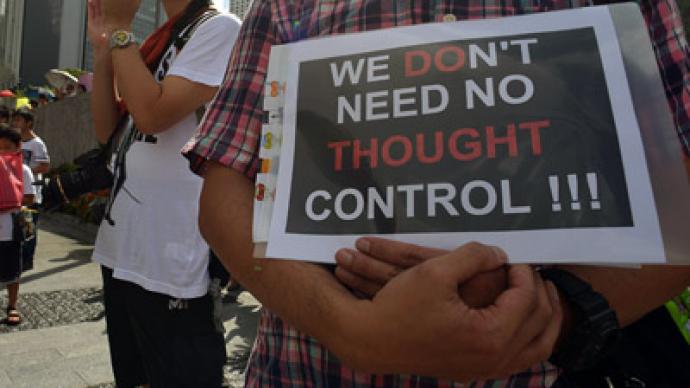 Just days before the start of the school year, tens of thousands of Hong Kong residents took to the streets to protest what they believe is an attempt by authorities to 'brainwash' students.
More than 40,000 people assembled outside government headquarters and demanded the cancellation of 'Chinese patriotism lessons' proposed for school curriculums.
Students and parents claim that these lessons, which would become compulsory by 2016, are an attempt to brainwash children with Chinese propaganda. The protesters demanded that Beijing respect Hong Kong's semi-autonomous status.
The program, which consists of general civics education as well as more controversial lessons on supporting the Chinese mainland, will be initiated in some primary schools in September and secondary schools in 2013.
The government claims that the classes are a way to nurture a sense of national identity and cohesion amid increasing levels of anti-Beijing sentiment.
It was the second mass demonstration against the proposed education reform in two months, after some 90,000 people took to the streets in July.
On Thursday, three students at a Hong Kong high school initiated a three-day hunger strike against the initiative, NewsAsia reported. The students, appearing pale and weak, said that the 'patriotism' curriculum should be removed from schools.
"We're here on hunger strike…because the government is not listening to the people's voice," Joshua Wong told Channel NewsAsia.
In a poll conducted by an association of men's and women's clubs, 74 percent of students and 77 percent of parents opposed the introduction of the classes into schools.
You can share this story on social media: