Lightning strikes Hollande's plane en route to Berlin, forces return to Paris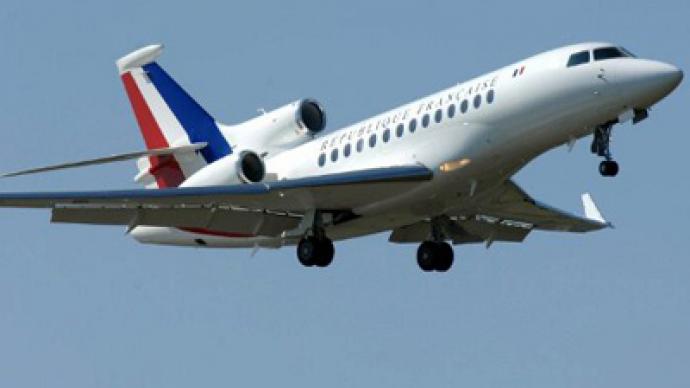 The newly inaugaurated French President has struck out on his very first official trip. Forces of nature stopped Francois Holland on his way to a symbolic and much-anticipated meeting with German Chancellor Merkel.
According to news reports, Hollande had a change of planes, but not plans, as he headed out for Berlin once again. There, he will meet with Angela Merkel and try to overcome their differences on how to resolve the financial crisis that's been ravaging the eurozone for months. During his inauguration speech, the French President called for "a compromise" over the German-led focus on austerity. The two leaders are expected to discuss the broad outlines of a new growth pact to complement Merkel's fiscal pact that cracked down on overspending and was signed by the eurozone member states. Hollande has said that the fiscal pact must be renegotiated to include a greater emphasis on measures to stimulate growth, while Germany insists the treaty must be respected.Their differences and the ongoing eurozone crisis will put them under huge pressure to compromise. As the eurozone's two biggest economies – and biggest contributors to its bailout funds – Germany and France are key decision-makers over the strategy supposed to pull Europe out of crisis.European Parliament member Richard Ashcroft told RT that Hollande may find it hard to keep his campaign promises – but Angela Merkel will also have to take the French position into account, as Berlin depends on Paris, its closest ally, in these tough times. "It is absolutely true that Hollande did promise the French people that he would continue government to expenditure but at the same time follow a policy which was aimed at reducing the national budget deficit. Unless you going to print money, unless you are going to rise taxes significantly, that is not going to happen," Ashcroft said. "The markets will tell Hollande what he can and can't do but in the meant time Angela Merkel will have to listen very closely to France, which is their closest ally, because between them they have to determine how to resolve the crisis in the eurozone."Stock markets and the euro have fallen amid continuing political uncertainty in Greece.
You can share this story on social media: