Hitler statue in former Polish ghetto creates furor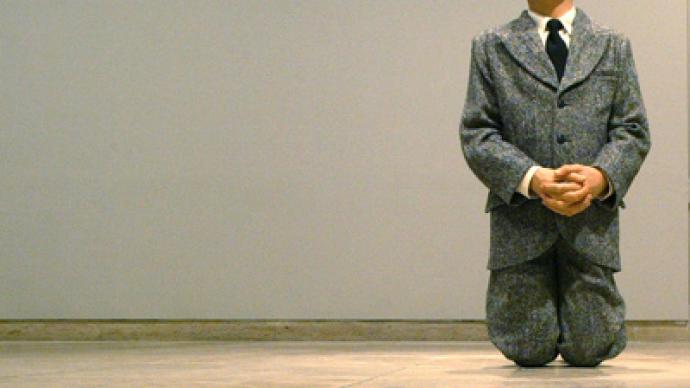 The statue of Adolf Hitler placed in former ghetto in Warsaw caused public uproar, with many calling it a 'senseless provocation', while others claim the artwork has no intention to harm anyone's memory.
The artwork by Italian artist Maurizio Cattelan, titled HIM, presents Adolf Hitler standing on his knees with his hands put together as if for prayers. The statue can be seen from a hole in a wooden gate, so viewers can only see the back of the small figure in a courtyard.Large numbers of visitors has seen the artwork since it was installed last month in the former Jewish ghetto in Warsaw. The controversial piece of art prompted sharp criticism. One Jewish advocacy group, the Simon Wiesenthal Center, regarded the placement the work in Warsaw as "a senseless provocation which insults the memory of the Nazis' Jewish victims.""As far as the Jews were concerned, Hitler's only 'prayer' was that they be wiped off the face of the Earth," the group's Israel director, Efraim Zuroff, said.The organizers claim there was no intention to insult anyone by putting the exhibit in former ghetto, but the desire to make people think about the nature of evil, as every criminal was once an innocent child."It's an artwork that tries to speak about the situation of hidden evil everywhere," said Fabio Cavallucci, director of the Center for Contemporary Art, which oversaw the installation.The placement of the statue was also agreed with Poland`s chief rabbi, Michael Schudrich, who did not oppose it, explaining that the artwork posed a strong moral question by provoking the audience. "I felt there could be educational value to it,'' said Schudrich.Despite the controversy, many viewers seem to have praised the artwork. "It had a big emotional impact on me. It's provocative, but it's not offensive,'' said Zofia Jablonska, a 30-year-old lawyer. "Having him pray in the place where he would kill people – this was the best place to put it."The Warsaw Ghetto was an area sealed off by the Nazis in 1940 shortly after they invaded Poland.During the occupation, hundreds of thousands of Jews from the ghetto died of hunger and diseases, as the conditions in the ghetto were inhumane. While roughly one third of Warsaw's population lived in the ghetto, the area occupied just one-fortieth of the city's area.
You can share this story on social media: