Rise of the machines: Hitachi joins robot race to dismantle Fukushima ruins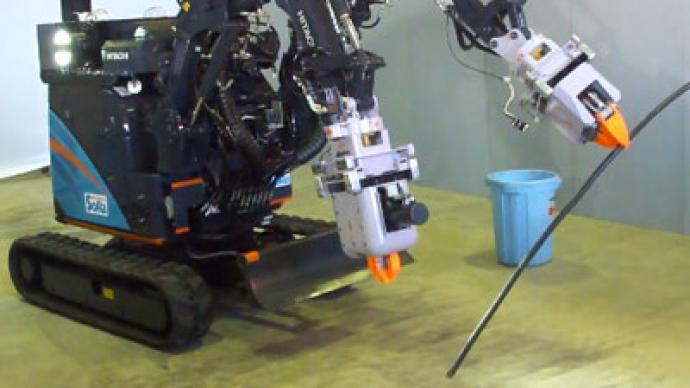 Japanese company Hitachi has unveiled a new remote-controlled robot designed for lifting duties in radioactive areas of Japan's crippled Fukushima nuclear power plant. Earlier, Toshiba also demonstrated a radiation-resistant robot for Fukushima.
Hitachi's 'Astaco-Sora' is mounted on tracks and has a base of 150 by 98 centimeters, the Asahi Shimbun newspaper reported. The robot is controlled wirelessly and can operate for up to 15 hours, Hitachi told journalists during a Friday demonstration.
Its two-pincer manipulator can lift loads up to 300 kilograms. The robotic arms can also be equipped with tools like an electric saw.
Hitachi said it may deploy the lifter at the plant next year.
Earlier, major Japanese robot manufacturer Toshiba created a radiation-shielded machine for use inside Fukushima's radioactive zones. In a somewhat jerky demo last month, Toshiba showcased the four-legged stair-walking robot to the media. Unlike Hitachi's creation, Toshiba's robot is not meant for heavy lifting.
The Fukushima nuclear plant was destroyed in 2011 by a powerful earthquake and subsequent tsunami, the worst-ever disaster of its kind in Japan.
The disaster prompted a number of nations worldwide to shelve the use of nuclear energy, including European powerhouse Germany and Japan itself.
You can share this story on social media: