3 million Greeks unable to afford health insurance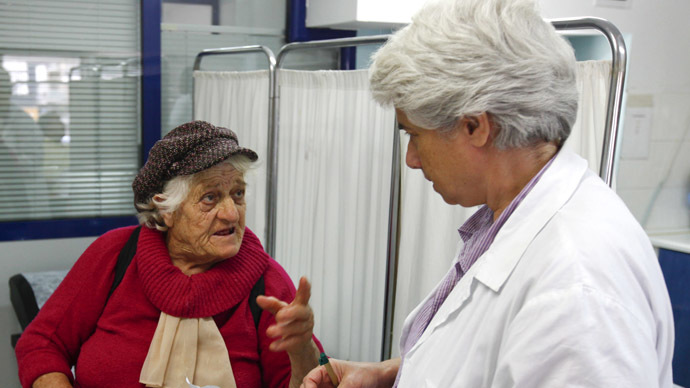 Over 25 per cent of Greeks can't afford health care, putting children and pregnant women in danger, Doctors of the World medical aid group said.
"We are very worried by the number of people who have lost access to social insurance," Anna Maili, the head of the organization, told journalists.
Among the risks, the group names the lack of vaccination: the cost of immunization over a child's first six years is between 1,400 and 1,800 euros.
"Over the last nine months we examined 10,633 children of whom 6,580 had to be vaccinated," Maili said.
"Every day we see 2 or 3 year-olds who haven't been vaccinated," she added.
The cuts to health spending were implemented in 2010 in return for the joint EU-IMF bailout, and results were quick to follow.
Between 2008 and 2011, the number of stillborn babies increased by 21 per cent, Doctors of the World said.
Unemployment in Greece currently stands at over 27 per cent, and is particularly harsh on women.
"On average, three women out of 10 between the ages of 25 and 44 are out of work," Panos Mouzalas, a member of Doctors of the World, told AFP.
Another issue is pensions system, which will need reviewing in 2015, the country's leading union GSEE warned.
This is explained by a low birth rate, which leaves fewer active workers to support more and more retired people.
The system would have naturally hit a crisis point in 2025 but the recession has brought it forward by 10 years, the union said.
Greece has been receiving 'financial lifeline' from international lenders since 2010, having secured the estimated $315 billion in loans.
You can share this story on social media: