Hamas claims shooting down Israeli drone in Gaza, IDF says 'technical reasons' behind crash
Published time: 3 Nov, 2013 22:33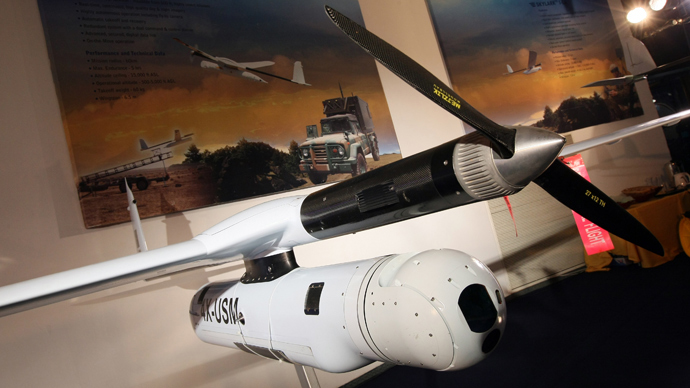 Hamas' military wing, the al-Qassam Brigades, says the organization shot down an Israeli unmanned aerial vehicle (UAV) and managed to find it. However, the Israeli Defense Forces (IDF) says the drone crashed because of a technical malfunction.
The al-Qassam Brigades claimed on Twitter that it shot down what it called a "mini-drone" over the Gaza strip. The IDF has denied the report, instead citing a technical failure.
A photo on the al-Qassam Brigade's Twitter account showed a picture which it claimed was the crashed drone. The military wing tweeted that this is not the first time it has shot down an Israeli UAV, citing Operation Shale Stone in 2012 - when it claimed to have shot down an Israeli Skylite B drone.
It also tweeted an incident from January 5, 2009, when it claimed to have shot down a mini UAV drone.
The Jerusalem Post reported that in 2012, a Skylark crashed near Nabuls in the West Bank and was recovered by the IDF. The online newspaper added that a similar make of drone crashed in northern Gaza in 2007, also from a technical malfunction, but that Hamas has claimed responsibility and showed off pictures of it at a press conference.
The Skylark is a small 7.5 kilogram drone, operated by troops of the Artillery Corps, which is launched by infantry soldiers. It is primarily used for reconnaissance and aerial surveillance because it can send back live video footage to operators in the field.
#Hamas lies: an #IDF UAV 'Skylark' crashed a short time ago due to technical issues. It was not shot down, as Hamas claimed

— IDF (@IDFSpokesperson) November 3, 2013
Every time Al #Qassam seizes an Israeli surveillance aircraft, #Israel's #IDF claims that "technical malfunction caused the drone to fall".

— Alqassam Brigades (@AlqassamBrigade) November 3, 2013