Conflcting reports on Gaza ceasefire talks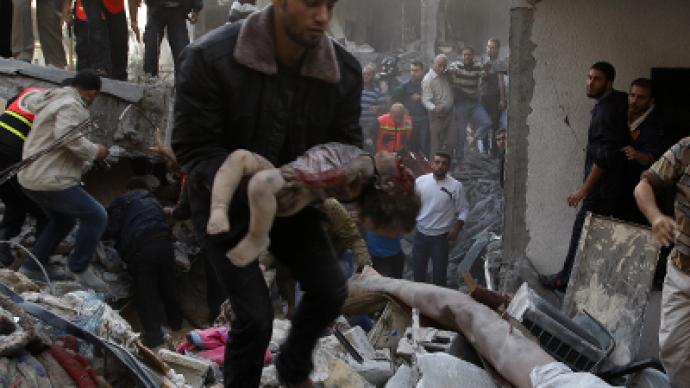 Conflicting reports are coming in on the progress of the Gaza ceasefire talks. A Hamas official says negotiations have conclusively failed, while Egyptian sources indicate they are ongoing.
The international effort to put an end to the violence is showing little sign of succeeding as the Israeli assault on Gaza is in it 5th day. At least 72 Palestinians have now been killed in Israeli airstrikes.Hamas official Abu Zahri says that ceasefire negotiations in Cairo have failed, according Israeli TV reports. However, Egyptian sources say Gaza peace talks are continuing, according to Haaretz newspaper. The sources say the Egyptians are pushing the various Palestinian factions to overcome their differences.An Israeli envoy arrived in Cairo on Sunday for Egypt-mediated truce talks with Hamas. The meeting was focused on agreeing guarantees for ceasefire conditions. It was Egypt's latest attempt to broker a truce.Hamas is seeking a truce deal which will lift the border blockade on Gaza imposed since Islamists seized the territory by force.  It also wants Israel to halt targeted killings of its leaders and military commanders.Israeli officials reject the demands, saying they are not interested in a temporary agreement, and want firm guarantees that the rocket fire will end.US President Barack Obama said on Sunday that Israel has a right to self defense. "There is no country on earth that would tolerate missiles raining down on its citizens from outside its borders," Obama said in a statement.He did, however, say that it would be "preferable" to avoid a ground offensive on Gaza."If [the ceasing of missiles from Gaza] can be accomplished without a ramping up of military activity in Gaza, that is preferable. That's not just preferable for the people of Gaza, it's also preferable for Israelis because if Israeli troops are in Gaza they're much more at risk of incurring fatalities or being wounded," he said.On Friday, Israel called up 75,000 army reservists to prepare for a possible ground invasion.Meanwhile, French Foreign Minister Laurent Fabius met with Israeli President Shimon Peres and Israeli Foreign Minister Avigdor Lieberman in Jerusalem on Sunday, to offer his country's help in bringing about a ceasefire."There is a real urgency and we think that war must be avoided. And so, there are long-term problems but also short-term problems with security and bringing about a ceasefire," Fabius told AP. In a statement, Liberman said the primary goal was to put an end to attacks on Israeli soil. "We appreciate all of the recommendations provided by our friends…but the first condition must be an absolute end to the rocket attacks on Israel by Gaza Arab terrorists. As soon as the attacks end, we will be happy to discuss any plans," he said.German Foreign Minister Guido Westerwelle is expected to arrive in Israel on Monday, to attempt to advance a ceasefire. UN Secretary-General Ban Ki-moon will meet with Egyptian President Mohamed Morsi and other officials in Egypt on Monday, according to the Egyptian Foreign Ministry. The failed negotiations come on the day of the conflict's highest death toll. At least 21 people were killed in Israeli air strikes on Sunday. At least seven children were among those killed.At least 69 Palestinians and three Israelis have been killed since Operation Pillar of Defense began on Wednesday.