Hague tribunal jails 2 Bosnian Serb ex-officials for 22 years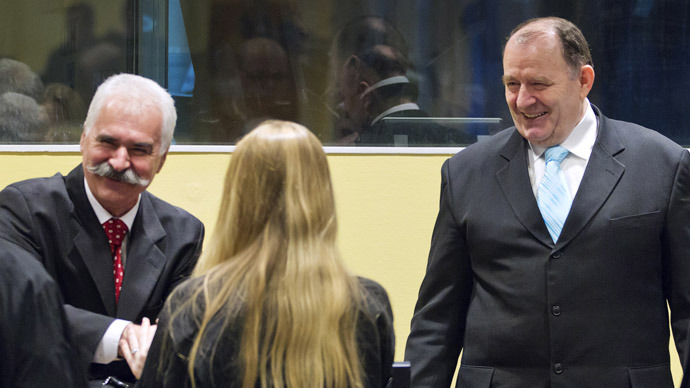 The International Criminal Tribunal for the former Yugoslavia has convicted two senior Bosnian Serb ex-officials Mico Stanisic and Stojan Zupljanin, and sentenced them both to 22 years imprisonment.
Mico Stanisic was interior minister in the self-proclaimed Republika Srpska during the 1992-5 Bosnian war. He was charged with crimes against Bosnian Muslims and Croats committed in April-December 1992, including the expulsion of non-Serbs from the territories controlled by the Bosnian Serbs. Stanisic voluntarily surrendered in March 2005 to the ICTY in order to "to help his people."
Stojan Zupljanin was a senior security official in charge of police during the war years. He was accused of war crimes and crimes against humanity and charged on such items as torture, murder, ill-treatment, deportation, destruction of villages, spiritual and cultural sites. After 8 years of hiding he was arrested in Serbia on June 11, 2008. In his initial appearance before the ICTY he pleaded not guilty to any of the charges.
The trial opened on September 14, 2009. The Hague tribunal united the cases of the two men as they both date back to 1992 and the events happened on the territory of Bosnia and Herzegovina.
Stanisic was found guilty of persecution, murder and torture, but acquitted of extermination.
Zupljanin was found guilty of persecution, extermination, murder and torture. He was convicted of extermination as he set up a police unit which the court ruled"committed heinous crimes against Muslims and Croats, including rape, torture and murder".  He was also charged with shielding police under his command from prosecution over at least two massacres of Muslims.
Along with Bosnian Serb President  Radovan Karadzic, his military chief Ratko Mladic,  former president of the Republic of Serbian Krajina Goran Hadzic, Zupljanin was a member of the four most wanted officials by the Hague tribunal.
Previously the prosecutors charged Stanisic and Zupljanin with involvement in a criminal conspiracy led by Karadzic and Mladic to force Muslims and Croats out of what they considered to be Serb territory in Bosnia. The court had sought life sentences for both men.
Both Karadzic and Mladic are still on trial at the UN court facing charges including genocide, persecution and mass deportation of non-Serbs during the Bosnian war that claimed more than 100,000 lives.
The ICTY has indicted 161 people for international law violations in the former Yugoslavia, 94 of them are Serbs.
The Balkan wars saw atrocities perpetrated by both sides, but the tribunal mostly dealt with alleged crimes by Serbians or Bosnian Serbs. Though there have been convictions for crimes against Serbs by others, including Croats, Bosnian Muslims and Kosovo Albanians.
In July 2011, Serbia handed over Goran Hadzic – the last major war crimes suspect – to the ICTY as a precondition for being granted candidate status for EU membership.
Two other top suspects, Radovan Karadzic and Ratko Mladic were extradited following the ascension of the pro-Western Democratic Party in 2008.
Critics of the ICTY have claimed that only Serbian war criminals were vigorously prosecuted, while Croatians and Kosovars were let off the hook.
In November, Ramush Haradinaj, Kosovo's former prime minister and leader of the paramilitary Kosovo Liberation Army, was acquitted of war crimes by the ICTY for a second time.
Earlier that month, Ante Gotovina, the Croatian general who had been convicted of criminal conspiracy to commit war crimes, was acquitted by the UN appeals chamber in what has been described as "the most stunning reversal in the war crime court's 18-year history."
The decision angered Serbians, who account for the majority of the prosecutions and convictions by the UN court.
Following Gotovina's acquittal, Serbian President Tomislav Nikolic accused the UN judges of taking "a political decision" which showed the Court's inherent bias against Serbs.
You can share this story on social media: