US to deploy ABM systems in Europe despite P5+1 deal with Iran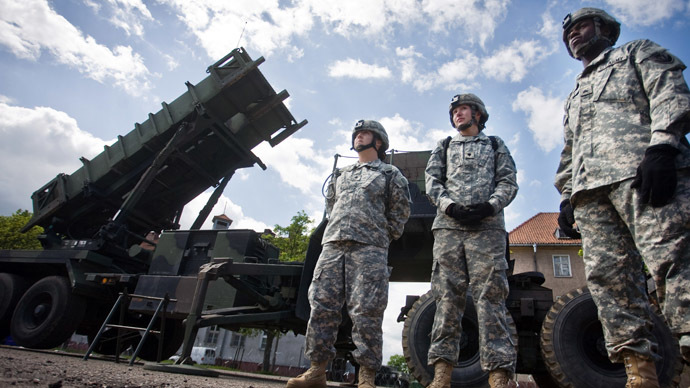 The US will deploy its missile defense system in Europe despite progress in Iran nuclear talks, Defense Secretary Chuck Hagel said. The news came as Russia confirmed the deployment of Iskander missiles in Kaliningrad region, bordering the EU.
The US Secretary of Defense Chuck Hagel has officially informed his Russian counterpart during a video teleconference on Monday that the P5+1 Joint Plan of Action, concluded between Iran and P5+1 member states regarding Tehran's nuclear program, "does not eliminate the need for US and European allies to continue implementing missile defense plans in Europe," the Defense Department's website reported.
Hagel assured his Russian counterpart, Sergey Shoigu, that "NATO missile defense efforts pose no threat to Russia and urged that both sides continue consultations on future missile plans in Europe," the Pentagon said.
Moscow has been hoping that the US missile system would be withdrawn, since the Iranian deal signed by Tehran and the P5+1 on November 24 in Geneva.
Once the nuclear program deal was signed, Russian Foreign Minister Sergey Lavrov expressed the hope that the US would no longer have a reason to build the long-touted missile defense shield in Europe – if Iran fulfills its obligations.
"If the Iran deal is put into practice, the stated reason for the construction of the defense shield will no longer apply," Lavrov told journalists in Rome.
In his annual address to the Federal Assembly on December 12, Russian President Vladimir Putin said that "any international problem can and must be solved through political means".
"Iran's nuclear program once served as the key reason for deploying missile shields," Putin said. "And what do we have now? Iran's nuclear problem is fading, while the missile shield remains in place. Moreover, it is still developing."
Caught in Iskander's crosshairs
Just hours ahead of the Moscow-Washington videoconference between the defense ministers, the Russian Defense Ministry confirmed a German media report on the deployment of short-range Iskander missiles in the country's western enclave of Kaliningrad, which is surrounded by NATO member countries.
Moscow said it does not violate international agreements, but said that US ballistic missile defense deployments in Poland are now within the 500-kilometer range of Iskander missiles, which can be armed with a nuclear warhead.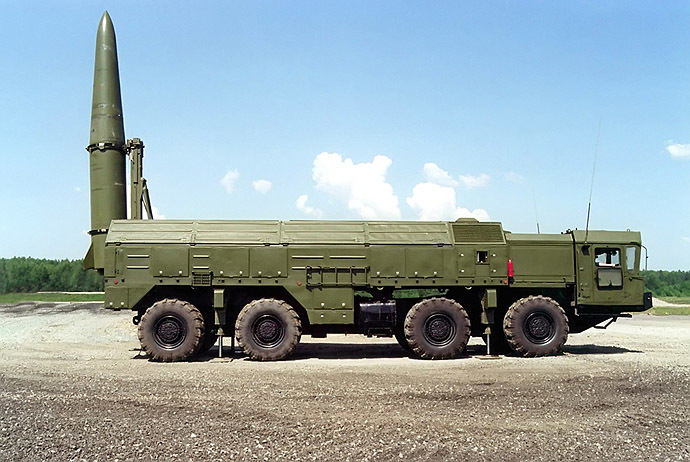 "The Iskander tactical ballistic missile systems are really in the inventory of the Russia's Western military district's missile and artillery forces," Defense Ministry spokesman Maj. Gen. Igor Konashenkov told journalists. Konashenkov said that "specific deployment areas of Iskander missile divisions on the Western Command territory does not contradict any of the international treaties of agreements."
The reaction from NATO was not long in coming. The US, Poland and three Baltic states: Estonia, Lithuania and Latvia, have all expressed strong concern at Iskander being deployed in Kaliningrad.
"We've urged Russia to take no steps to destabilize the region," AFP reported State Department deputy spokeswoman Marie Harf as saying.
"This is a matter for NATO and we can expect possible consultations and action... at the NATO and EU level," Poland's Foreign Ministry said in a statement.
Artis Pabriks, Latvia's Defense Minister, said that Russia's move threatened "several Baltic cities."
"It is clear that it is alarming news, as it is one of the arguments changing the balance of power in our region," Baltic News Service reported Pabriks as saying.
'US real goal is new stage of superiority in Europe'
Russia has always suspected that the US was deploying not just missile defense systems in Europe, but fully-fledged first strike weapons. The first warning of Iskander missile systems being deployed in Kaliningrad in response to the European IBM deployment was voiced by then-President Dmitry Medvedev in 2008.
Putin was much more categorical in his latest assessment of the European ABM.
"We are well aware of the fact that the missile defense system is only defensive in name, whereas in reality it is an essential element of a strategic offensive potential," Putin said his address to the Federal Assembly, adding that Russia was "closely following the evolution of the so-called 'disarming nuclear strike' concept" of the US military. Putin said the US program was designed "to upset what is known as the strategic balance of power."
"We are well aware of that. And we know what we need to do about it," Putin warned.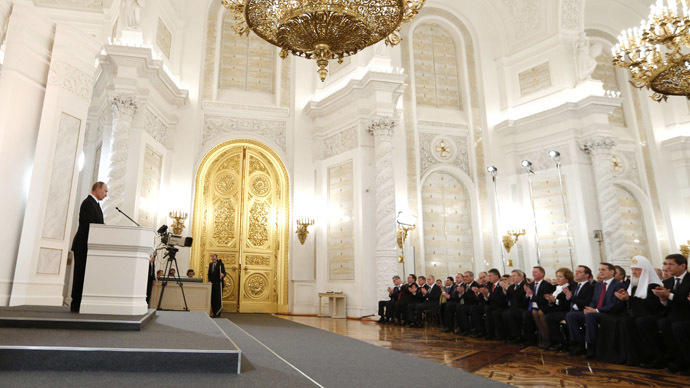 Last week, Russian Deputy Prime Minister Dmitry Rogozin warned that Russia would use nuclear weapons if it came under attack, adding that this possibility serves as the main deterrent to potential provocateurs and aggressors.
"One can experiment as long as one wishes by deploying non-nuclear warheads on strategic missile carriers. But one should keep in mind that if there is an attack against us, we will certainly resort to using nuclear weapons in certain situations to defend our territory and state interests," Rogozin, the defense industry chief said on Wednesday speaking at the State Duma, the lower house.
Aleksey Pushkov, the chairman of the Foreign Affairs Committee of the Russian State Duma, the lower house of parliament, said in an interview to RT that from the very beginning western argument backing the idea of the European ABM was "deeply flawed" and both North Korean and Iranian arguments used to justify American ABM in Europe "are just fake."
"The real goal is to create a new stage of American superiority in Europe, to try to neutralize at least partially Russian nuclear potential and to create the new bond between the US and Europe," Pushkov told RT.
You can share this story on social media: