Ebola outbreak confirmed in Guinea, death toll reaches 59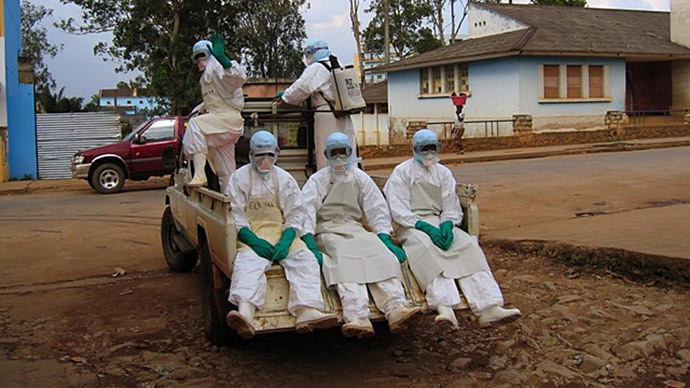 The deadly epidemic, which has killed at least 59 people, in Guinea, West Africa, and could have spread to neighboring Sierra Leone, has been confirmed to be Ebola, according to government officials.
Following failed attempts by medical experts in Guinea to identify the disease, which started claiming lives six weeks ago, samples of the virus were sent to scientists in the French city of Lyon, who confirmed the virus was Ebola.

"The Ebola fever epidemic raging in southern Guinea, including the prefectures of Gueckedou and Macenta, since February 9 has left at least 59 dead out of 80 cases identified by our services on the ground," the Guinean health ministry's chief disease prevention officer, Sakoba Keita, announced on Saturday, according to AFP.

The disease, which has diarrhoea, vomiting and bleeding among its symptoms and kills between 25 and 90 percent of those who fall sick, depending on the virus's strain, has never before been registered in Guinea. It has now been found in three southeastern towns and in the capital, Conakry.

The disease could have also spread to neighboring Sierra Leone, according to World Health Organization (WHO) officials, who reported cases showing similar symptoms there.

A 14-year-old boy died in Sierra Leone's eastern Kailahun District, reportedly after he attended a funeral in Guinea of one Ebola victim, chief medical officer, Dr. Brima Kargbo said, as cited by Reuters.

The official said a medical team was investigating the death and looking for people the boy might have been in contact with before he died.

The international humanitarian organization, Medecins Sans Frontieres (MSF), announced on Saturday it already had 24 doctors, nurses, logisticians and experts in hygiene and sanitation in Guinea and was further reinforcing its team there.

MSF also said it was flying in 33 metric tons of medicines and equipment and was setting up isolation units in the affected towns in Guinea.

"These structures are essential to prevent the spread of the disease, which is highly contagious," Dr. Esther Sterk, MSF's tropical medicine adviser, said in a statement. "Specialized staff are providing care to patients showing signs of infection."

Ebola haemorrhagic fever is one of the deadliest viral diseases known to humankind, according to the WHO. There's no vaccine against the virus and the disease is treated by general supportive therapy.

It was first identified in 1976 in Sudan and Congo. It is believed to have been passed onto humans from sick animals - chimpanzees, gorillas, monkeys, forest antelope, and fruit bats.

The highly contagious virus is transmitted by direct contact with the blood, body fluids and tissues of those infected.