New talks, old demands: Iran envisions solution to nuclear stalemate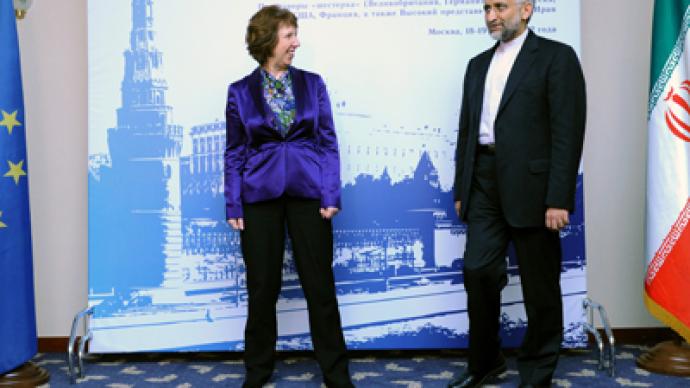 Iran and EU have discussed their demands once again as both sides try to reach agreement on Tehran's controversial nuclear activity. The first day of talks in Moscow ended with no deal struck, but both sides have pledged to continue negotiations.
­Iran says it is ready to scale down uranium enrichment to the required level if the EU guarantees nuclear fuel for its reactors. Despite this, the six powers currently in talks with Tehran are refusing to lift sanctions, according to Iran's.However, the Iranian delegation has hailed the first day of talks in Moscow as "constructive and serious." "We provided a detailed answer to the sextet's proposals tabled at the previous round in Baghdad," said Ali Baqeri, Deputy Secretary of Iran's Supreme National Security Council. He has urged both sides to take five steps to push talks forward, however did not specified these steps."We think that we will reach significant results if everyone implements these five steps," he said.Talks on Iran's nuclear program on Monday were difficult and included a tense exchange of views, Michael Mann, the official spokesman for EU foreign policy chief Catherine Ashton, told reporters late on Monday.He said that the third round of the talks, though initially scheduled for two days, may be extended for one more day.Catherine Ashton asked for a break until Tuesday afternoon "to analyze Iran's proposal and Tehran's response to the proposals of the six respectively."Iranian and Western officials initially offered mixed views on the prospects of a deal during the new round of talks as both sides refuse to meet each other's requirements.The negotiations come less than two weeks before Iran faces the imposition of a European oil embargo and American banking sanctions, which are likely to further damage its economy.The EU reiterated it has no plans to postpone the embargo. A spokesman for Catherine Ashton said the union expects the Iranians to put forward a "solid negotiating position."­Peres: 'If Iran thinks this is a bluff, it may lead to a war'­Meanwhile, Israel insists on imposing harsher sanctions against Iran. The country does not rule out military action if Tehran keeps refusing to meet Western demands to curb its nuclear activity.
Israel believes Iran does not take the threat of war seriously. "The Iranians think this is just a warning. That people are not serious enough," Israeli President Shimon Peres told CNN on Monday. He added that "if the Iranians will understand seriously that this [military action] is an option, maybe we shall not need it. If they think this is a bluff, then it may lead to a war."
However, Israeli deputy Foreign Minister Danny Ayalon earlier told RT that Israel's major interest is "to avoid any confrontation".
"Israel is not preparing for war in Iran because we believe that Iran can be stopped through diplomatic and economic means. Iran is a very vulnerable and weak country – economically, politically, and socially. But it all depends on the united front by the entire international community. If indeed they will be forced to abide by sanctions, we will not need to resort to any other means," he said.