Calls to ban Greek far-right party after murder of anti-fascist rapper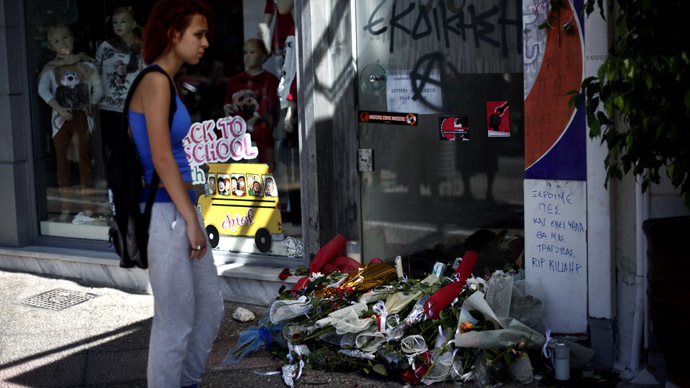 The Greek PM vowed to keep Nazism from "poisoning" the country's life as more than 2,000 mourners paid their final respects in an Athens cemetery to Pavlos Fissas, the anti-fascist rapper who was stabbed to death by a suspected Golden Dawn sympathizer.
Fissas, 34, was laid to rest Thursday in a graveyard on a hill overlooking the working-class Keratsini suburb where he was murdered.
The funeral was far from a somber affair, with mourners chanting "Pigs! Fascists! Murderers!" as pallbearers carried Fissas's white coffin into the cemetery, Reuters reports. Others took to singing his songs, while one man cried out: "Immortal!"
The alleged killer, George Ropakias, reportedly confessed his affiliation with the far-right Golden Dawn to police. Golden Dawn has denied having any link to the 45-year-old truck driver but pictures quickly surfaced after Fyssas' death of Ropakias participating in party functions.  

The crime has electrified Greece, where the seemingly intractable economic crisis and rampant unemployment have brought social tensions to breaking point.
Thousands of people participated in a march Thursday to protest the murder of the anti-Nazi activist. While other demonstrations quickly turned violent, the march was not marred by any anarchist activity or tear gas from police.  

On Wednesday violence erupted as rallies were held across the country to protest the murder.

Protesters have surrounded area where Golden Dawn offices located. Very tense atmosphere. Kids with covered faces are in the crowd.

— Lucy Kafanov (@LucyKafanov) September 19, 2013
Police fired teargas at protesters who lobbed stones and Molotov cocktails at a police station in Athens and set trash cans on fire after more than 5,000 people had descended on the spot where Fissas was stabbed.
Similar scenes were witnessed again when 6,000 people rallied in Thessaloniki, Greece's second-largest city. Marches also rolled through the western city of Patras, in the northeastern city of Xanthi, in the central city of Larissa and in Chania on the southern island of Crete. 
Fissas, who performed under the name Killah P, was stabbed twice in the heart and chest on Tuesday night after a mob attacked him and several friends after watching a soccer match in a café. 
Police have completely barricaded actual street where local Golden Dawn protest is. Crowd now marching around neighborhood

— Lucy Kafanov (@LucyKafanov) September 19, 2013
Eyewitnesses said the Fissas was stabbed by a man who rushed to the scene after being phoned by members of the mob, the Guardian reports.  The witness accounts have fueled speculation the murder was premeditated. Ropakias is due to appear in court Saturday. 
Golden Dawn to be outlawed?
The Greek government on Thursday hinted that the party could be banned, with Prime Minister Antonis Samaras saying he would not allow Golden Dawn to "undermine" democracy.
"This government is determined not to allow the descendants of the Nazis to poison our social life, to commit crimes, terrorize and undermine the foundations of the country that gave birth to democracy," AFP cites Samaras as saying during a televised address.
Samaras did not, however, point towards any concrete measures which would be taken against Golden Dawn, which is Greece's third most popular party.

September 19, 2013
The public order minister, Nikos Dendias, was far more forthcoming in banning Golden Dawn, saying the government would table emergency legislation that would seek to outlaw the group. Dendias said the new law would redefine what constitutes a criminal gang in Greece.
"Neither the state will tolerate, nor society accept, acts and practices that undermine the legal system," the Guardian cites the minister as telling reporters, adding that the attack showed "in the clearest way the [party's] intentions."
Earlier on Thursday, police raided Golden Dawn offices across the country, with media reporting running street battles outside party branches in Crete, Thessaloniki and Patras.
The far-right party condemned the killing and denied any involvement in the assault, saying those who accused them in the attack were "wretched sycophants" trying to win votes.
A pawn shop whose windows were smashed in #greecepic.twitter.com/TIBVrHVc54

— Lucy Kafanov (@LucyKafanov) September 19, 2013
Golden Dawn entered parliament for the first time after capturing 18 seats in the 300-member parliament during the 2012 elections.
With a party emblem resembling a swastika, the group's electoral success was connected to its staunchly anti-immigrant and anti-corruption agenda.
Following a 6-year recession and endemic economic woes which have deepened social divisions, politically-motivated violence has been on the rise.

Demonstration slowly heading toward Golden Dawn offices. Older crowd, communist party, union members. No anarchist presence here at moment

— Lucy Kafanov (@LucyKafanov) September 19, 2013
Last Thursday night, 50 men wearing black T-shirts, some adorned with the Golden Dawn party logo, violently beat communist activists in Perama, sending nine to hospital with serious injuries, including head trauma. Golden Dawn also denied involvement in that attack.
Ultranationalists have also been blamed for an attack carried out on a rightwing mayor over the weekend.
This scene really moved me. An elderly man copes with the aftermath of the violence outside his home. pic.twitter.com/mUOyroRzHf

— Lucy Kafanov (@LucyKafanov) September 18, 2013
"I'm afraid things have become very serious," Lydia Montesanto, a 62-year-old pensioner told Reuters in regard to the stabbing.
"Yes, the government has ravaged our wages and pensions but the time has come for all of us to kick Golden Dawn out of parliament and tell Europe it needs to stop the austerity that is breeding these things," she said.
Ordinary Greeks have already faced rounds of tax hikes and benefit cuts. Total unemployment is 27 percent – the highest in all of Europe – while youth unemployment has reached an unsustainable 60 percent.

Economic woes have been blamed for the country's waning birthrate, which has declined by 15 percent over the past four years.