Greek convicted terrorist escapes from prison on Christmas furlough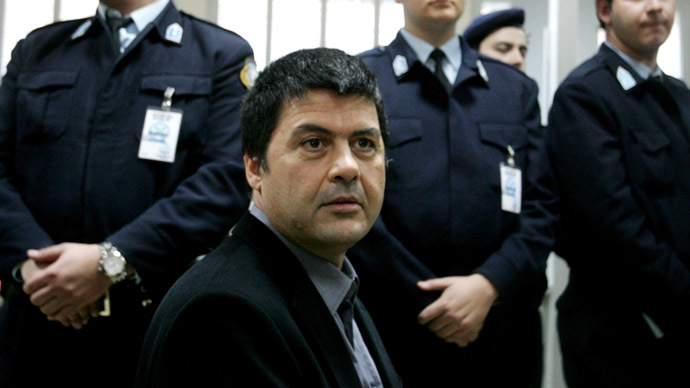 Greek police have launched a nationwide manhunt for convicted far left-terrorist, Christodoulos Xiros, after he failed to report to the authorities during his New Year prison leave. Authorities are now considering a review of the prison furlough system.
Xiros, who used to be a member of Greece's most lethal extremist group 'November 17', has been in prison in the country's capital, Athens, since 2003.

He was handed six life sentences for participating in multiple shootings and bombings of Greek, US and UK businessmen and diplomats.

On Monday, the 56-year-old, who had been on an eight-day leave in the north of the country, did not check in with the police, which he is supposed to be doing on a daily basis, Reuters reported.

The search for the fugitive has so far been fruitless, with the police only managing to find the car he used.

It was dropped in the northwestern town of Florina, located some 200 kilometers from the Halkidiki area where Xiros was last seen.

Lawyer Frangiskos Ragousis said that he has not spoken to his client for a long period of time, and believes that he has escaped.

"It is a political decision in line with his revolutionary activity," the attorney told Skai television channel.

According to AP, it's the sixth time Xiros has been granted a furlough, and he has never violated its terms before.

Under current Greek law, inmates, who are serving life sentences, can be granted short-term leaves from prison after serving at least eight years of their term.

However, the government is now talking about reviewing the whole the prison furlough system for those convicted of terrorism and other serious crimes.

"The benefit of prison leave ... can't be turned into a means to undermine the country's crime-fighting policies," Greek Justice Minister, Haralambos Athanassiou, said.

November 17, which mixed Marxist ideology with nationalism, was responsible for the deaths of 23 people between 1975 and 2000.

It was dismantled after a string of arrests in 2002, which were part of a security crackdown just before the Athens Olympics in 2004.

More than 10 members of the group were convicted, including the three Xiros brothers – Christodoulos, Savas and Vassilis, who were sons of an Orthodox priest.
You can share this story on social media: