'Cycle of violence' feared in Greece after shooting kills 2 Golden Dawn supporters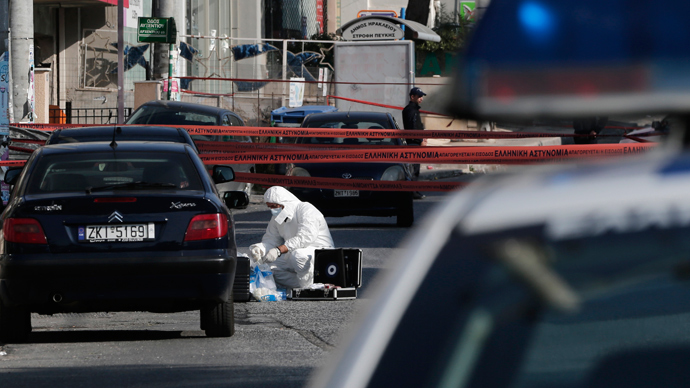 A ruthless drive-by murder of two young members of the far-right Golden Dawn party may draw Greece into a "cycle of violence," local politicians warned.
Two Golden Dawn supporters, aged 22 and 27 years old, were shot dead outside the party's office in the capital of Athens during Friday rush hour.

Another man, wounded in his chest and stomach, currently remains in critical condition.

CCTV camera footage indicates the attacker got off a motorbike driven by his accomplice and fired at his victims from close range in front of many witnesses.

Twelve bullets from a 9 mm gun were found at the scene, with police saying that the weapon has been used in previous crimes.

No one has yet claimed responsibility for the attack and investigators are still determining if the shooting was in retaliation for the fatal stabbing of an anti-fascism rapper by a Golden Dawn sympathizer in September.

The murder of Pavlos Fissas, also known as Killah P, sparked a wave of protests across the country and prompted a government crackdown on Golden Dawn - which it labeled a "neo-Nazi gang." The government also blamed the party for assaults on immigrants.  

The party's leader, Nikos Mihaloliakos, and several other members were arrested and are currently awaiting trial on accusations of running a criminal organization.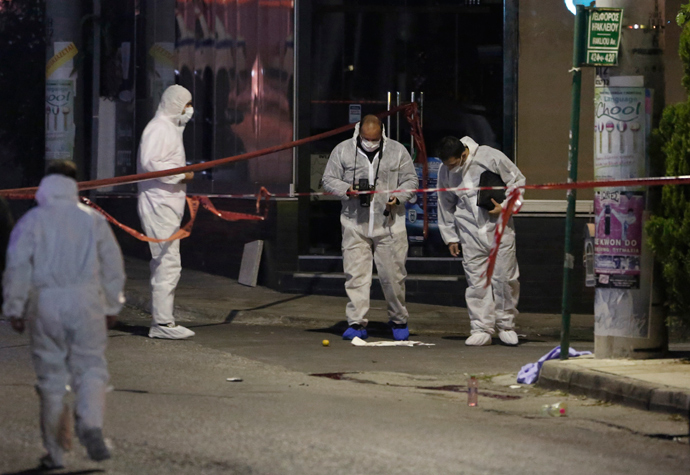 Golden Dawn's political opponents stand united in condemning the attack, demanding that those behind Friday's killings be brought to justice.

Greek public order minister Nikos Dendias has expressed his sorrow for the deaths of the two young men, saying "the country won't be allowed to become a battlefield for the settling of scores."

"We can't let this cycle of violence continue. This must end here," Makis Voridis, senior MP for the New Democracy party, told local Mega TV.

A lawmaker from the leftist opposition Syriza party, Golden Dawn's fierce opponent, said the attack was "a blow for democracy."

"It feeds fascism, it doesn't beat it," he wrote on Twitter.  

Panos Kammenos, a member of the right-wing Independent Greeks party, has warned of forces looking to drag the country into "a civil war."

"Clearly there are those who want to destabilize this country politically," he said.

Memorial services were held outside the Golden Dawn offices on Saturday to honor the party members killed in Friday's shooting.  

The party claimed 18 seats in Greece's 300-member parliament in the 2012 election, managing to capitalize on anti-immigrant sentiment throughout the country.

Golden Dawn has rejected accusations that it is a neo-Nazi party, despite its swastika-like emblem and the fact that its leader has publically denied the Holocaust.

You can share this story on social media: