Greece passes controversial reform bill to clear next bailout tranche
Published time: 31 Mar, 2014 02:22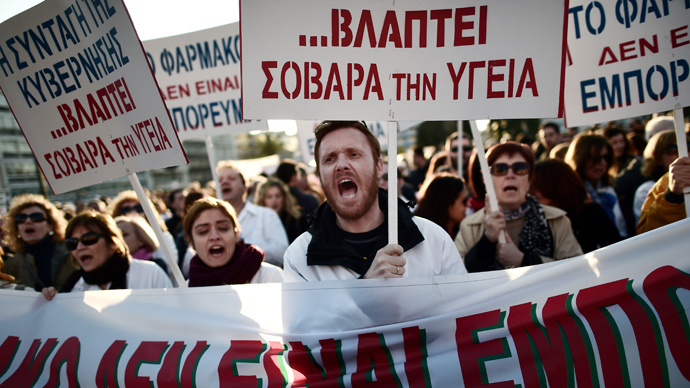 More than 10,000 Greeks from a number of trade unions have protested outside the nation's Parliament as the legislative body narrowly approved an omnibus law of reforms needed for the country to receive next tranche of EU-IMF bailout.
The demonstration was organized by the main opposition leftist Syriza party. Members of the country's unions also joined the demonstration, as police cleared the streets in front of the Parliament building.
Greece's largest public sector union ADEDY and General Confederation of Greek Labor (INE/GSEE) all took to the streets to voice their concern over the legislature that would introduce changes to the tourism, food, building materials and retail sectors to follow recommendations prepared by the Organization for Economic Cooperation and Development aimed at boosting the Greek economy.
Sunday's rally also coincided with the five-day pharmacists strike that was launched on Thursday to protest deregulation of pharmacy licenses and create pharmacy chains in supermarkets.
"Pharmacies will not go like lambs to the slaughter," Kyriakos Theodosiadis, head of the Greek Pharmacists'Association, told private radio Skai. "If people want medicines then they should go to the ministers who vote for these provisions to secure medicines for the people."
Greek associations of booksellers, bakers, pharmacies, and milk producers all expressed anger over plans to liberalize retail sectors thus granting the supermarkets permission to set up in-store pharmacies, get rid of price limits on books and allow a longer shelf-life for milk.
Left-wing opposition leader Alexis Tsipras earlier said that the new laws would confine the nation to "modern slavery" and accused the government of "serving specific foreign and domestic financial interests."
He called the new bill "a crime committed against the people and our country", accused Finance Minister Yannis Stournaras of being "the main administrator of the death contract against Greek society" as Syriza filed a no-confidence motion against the bill, in an attempt to delay the voting. The motion was rejected.
Yet despite enormous public discontent, Greece's parliament narrowly approved a 190 page bill in a 300-member chamber.
The first article famous for its controversial reforms on milk passed with 152 votes against 135. Article two including the bank reforms passed by 151 votes against 136.
Other articles included in the bill focused on reducing the size of its public sector and details of the country's €50 billion bank recapitalization plan.
The debate over the bill lasted for seven month and was approved just on time for Tuesday's meeting of euro zone finance ministers where final disbursement of €8.3 billion aid package to Greece will dominate discussions as Greece approaches a debt repayment cliff in May.