Coup de Greece: Papandreou boots military brass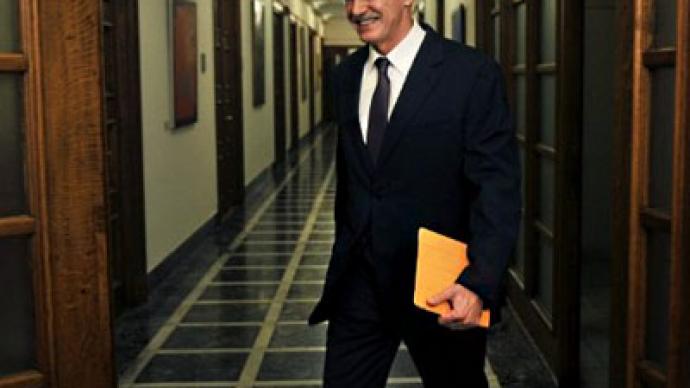 The dismissal of Greece's top military chiefs has the opposition up in arms. With the Greek crisis worsening by the day, PM George Papandreou has been accused of trying to rein in the armed forces before a potential government collapse.
Sweeping changes to Greece's military leadership were approved by Prime Minister George Papandreou during a meeting of the Foreign and Defense Council in Athens today.The Chief of National Defense, as well as the chiefs of the army, navy and air force, were all replaced, according to a statement released by the Greek Defense Ministry Wednesday.In addition, a dozen commissioned officers were also relieved of their duties.   The move came as a surprise to many members of the government and the armed forces, as an annual review of the military leadership was already scheduled for November 7. Moreover, the changes rarely impact the entirety of the top brass.While officials deny the decision is connected with the political instability that has gripped the country, the opposition says Papandreou is attempting to create a loyal armed forces he will be able to control if the situation in Greece spirals out of control.However, having incited fury both at home and throughout the eurozone for his decision to call a referendum on the EU bailout package agreed to just last week, the opposition is refusing to confirm any new nominations from Prime Minister Papandreou."It is immoral to change the leadership of the armed forces just a few hours before the fall of the government," the far-right LAOS party said, as cited by Reuters.  Parties on both ends of the political spectrum have called on the Papandreou not to proceed with any reshuffle of the military leadership until after elections.  Although elections are not scheduled to be held until November 2013, Papandreou faces a confidence vote on Friday.  Ever since the collapse of a seven-year military junta in 1974, successive Greek governments have kept the military on a tight leash, with political loyalties often forming the basis for military appointments.The recently-dismissed military chiefs had been appointed by the then ruling conservative administration in August 2009, right before Papandreou's socialist government came to power some two months later.
You can share this story on social media: