Gunman opens fire on Greek party HQ with AK-47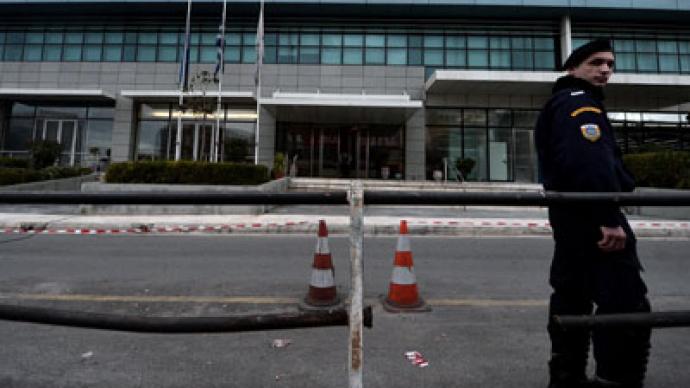 A gunman opened fire on the headquarters of Greece's ruling New Democracy party in a seemingly randomized shooting spree. The building was empty at the time of the attack, but one round hit the office where the Greek PM sometimes works.
Spokesperson for the Greek government Simos Kedikoglou told press that no party members were in the building at the time of the attack and that one of the stray bullets had hit the window of the office where the Prime Minister occasionally works.Minister Antonis Samaras spends most of his time in a different office in the center of Athens."Of course there could have been (victims). There could have been a cleaner in the prime minister's office or a security guard at the site," Kedikoglou said. He stressed that the "government will take every action necessary to safeguard our democracy." Police immediately cordoned off the area around the Greek capital's crowded Syngrou Avenue, to the South of the city center. According to police reports, two men emerged from a vehicle on Syngrou Avenue and one opened fire on the New Democracy Party's headquarters with a Kalashnikov. Police are now investigating a stolen burnt out car that they suspect to be the vehicle used in the incident.No group or political organization has yet claimed responsibility for the attack, but it comes off the back of a wave of attacks on New Democracy officers with firebombs over the weekend.Similarly, on Friday unidentified assailants reportedly threw the homemade incendiary devices into the homes of five Greek journalists working for state media. Government spokesperson Kedikoglou's brother was also targeted in the spate of attacks, sparking a sharp condemnation from the Greek government.An anarchist group said it was behind the attacks on January 11, justifying the attack as a protest against the one-sided coverage of the financial crisis by the Greek press."We believe the attacks are related to the latest economic developments and the way the journalists present the facts," a police official, who preferred to be unnamed, told Reuters.Greece has just entered into the sixth year of its toxic financial crisis, with the government planning to implement more austerity measure to try and bring down the public deficit.The sweeping measures have sparked widespread public anger, triggering protests and street violence throughout the country. As a result of the crisis Greece has seen a rise in the popularity in more extremist political groups as disillusioned Greeks move away from mainstream politics.
You can share this story on social media: