Greek army, police probed over links to neo-Nazi party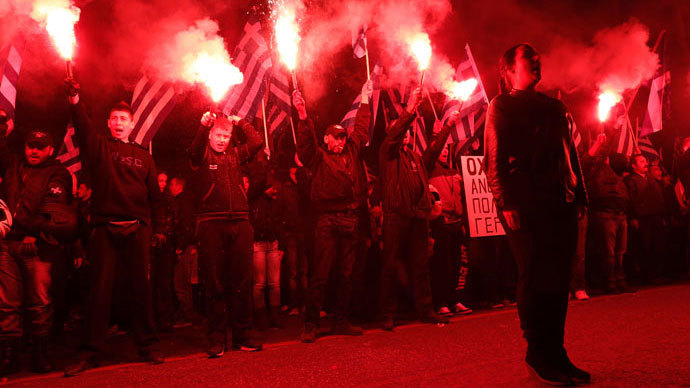 Greece's army is being accused of helping to train the neo-Nazi Golden Dawn party's paramilitary wing. The revelation comes as top policemen have been fired after the murder of a left-wing activist by a Golden Dawn fan provoked mass protests.
Greek media first started publishing stories detailing the involvement of the country's elite forces in training its most controversial neo-fascist organization, which is allegedly linked to large-scale racial violence against immigrants in the wake of the country's economic meltdown.
Greek Defense Minister Dimitris Avramopoulos decided to take action against the rise of fascist activity after last week's murder of Pavlos Fyssas, a popular anti-fascist rapper, by a Golden Dawn supporter who confessed to the killing immediately after his arrest.
"In Golden Dawn, we have an entire military structure with at least 3,000 people ready for everything," a party member told the local Sunday Vima newspaper, while another of Greece's prominent dailies on Monday published photos of military exercises and men in balaclavas at secluded training grounds. The Ethnos newspaper also reported that a few of the men holding knives and wooden clubs were actually trained by members of Greece's elite special forces – themselves sympathizers with Golden Dawn's cause.
As part of the ensuing public outrage at these recent developments, the leader of the left-wing Syriza party, Alexis Tsipras, was quoted as saying that the government "thought [Golden Dawn] was a little snake and they patted it… now it's about to choke us."
Prime Minister Antonis Samaras's government insists it is doing what it can to curtail Golden Dawn's extremism, while President Karalos Papoulis told local media that his top priority would be to eradicate neo-fascism in Greece. "From the time I was a young man I fought fascism and Nazism," Britain's Guardian newspaper reported Papoulis as saying. "It is my supreme duty as president of the republic to defend democracy and the Greek people from the storm that is approaching."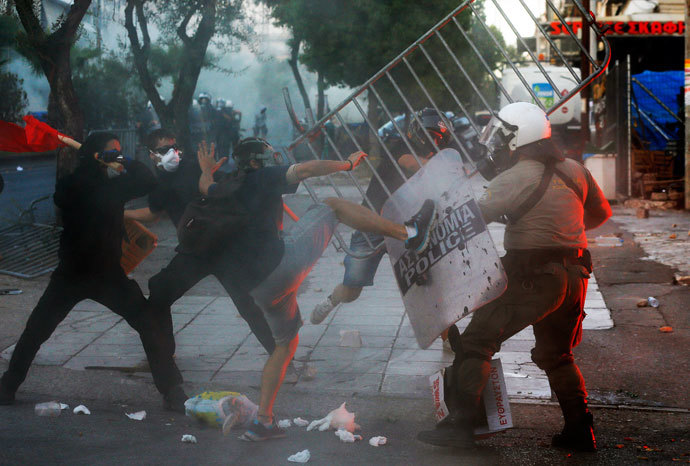 Meanwhile, a separate investigation into possible police collusion with Golden Dawn's activities got under way following the Sept. 18 murder of Fyssas. Five top police officials, along with the chiefs of the two Athens neighborhoods where Fissas was murdered, were fired on Monday, a police statement said.
Four other police officials in the central city of Evia were suspended for failing to take action over armed men showing up frequently at Golden Dawn's offices, the Interior Ministry said. The suspensions came after the resignation of two senior members of the police force, allegedly for personal reasons.

The stabbing of Fyssas by a supporter of the neo-Nazi party shone a light on suspicions that the country's law enforcement was turning a blind eye to extremism, with allegations that the Greek police have been infiltrated by members of Golden Dawn.
Golden Dawn has denied any involvement in Fyass's murder, however.
Crisis radicalizing Greece
Greece's economic crisis has created much social, economic and political unrest, radicalizing large sections of the population. As well as growing left-wing protests, the crisis has also resulted in far-right groups fomenting racial hatred and seeking to blame foreigners and the left for the country's economic collapse. Golden Dawn's recent surge in popularity has coincided with its fierce anti-immigrant campaign and its alleged organization of beatings of immigrant street vendors and other non-Greeks. Golden Dawn officials insist they are not involved in racist attacks.

In the aftermath of Fyssas's murder, and following a clampdown on Golden Dawn's activities, party spokesman Ilias Kasidaris accused the government and media of waging an unfair war against the organization because it suddenly started to gather so much positive attention. The party's ratings have sunk by 2.5 percentage points following Fyssas's murder, however.

"Golden Dawn has been radically strengthened, it has passed 20 percent [in the polls] and in a few months it will lay claim to the biggest municipalities in the land. We will not stop. We have justice on our side and more than a million Greeks," Kasidaris said.
Despite Kasidaris's remarks, support for Golden Dawn has begun to wane, followed by increasing calls to ban it. This comes as politicians are accusing Greece's police of failing to investigate the possibility that the neo-Nazi party had infiltrated its ranks.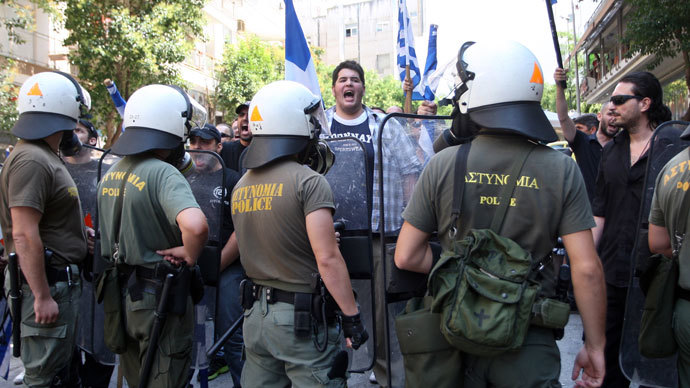 Golden Dawn's leader, Nikos Mihaloliakos, says attempts to ban it would not be successful.

"Golden Dawn is everywhere. It has spread to every city, to every village," Mihaliliakos said in a live video address on the party's website. "It's in every neighborhood and you will not be able to contain it. Deal with it!"
Mihaliliakos also accused Greece's political establishment of staging a campaign against the party.
Golden Dawn is increasingly called a fascist organization, but the party insists it is not, even though it has a logo resembling a swastika. Giving extra support to the idea of Nazi links, Mihaloliakos has publicly denied the Holocaust. 
At first an obscure, small far-right group, Golden Dawn gained in strength following Greece's economic collapse in the last five years. Starting out as an organization hardly anyone took seriously, they gained 18 seats in parliament in the June 2012 election, although a Monday poll showed that many Greeks believe it is a threat to democracy. Nearly half the people surveyed describe the party as a "fascist organization," while just over 30 percent similarly call it a "criminal organization" disguising itself as a political party. In the poll, 17 percent referred to it as a "populist nationalist movement."
You can share this story on social media: