Greece's neo-Nazis threaten hospital raids against immigrants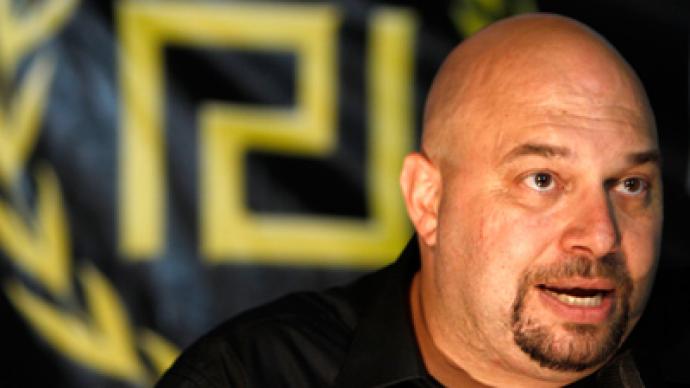 The Greek extreme right party Golden Dawn has stepped up assaults on immigrants by threatening to remove them and their children from hospitals and kindergartens.
The neo-Nazi rhetoric comes as Greece prepares for its crucial elections scheduled for Sunday, June 17

If Chrysi Avgi (Golden Dawn) gets into parliament as polls predict, the party says it will carry out raids on hospitals and kindergartens and it will throw immigrants and their children out on the street so that Greeks can take their place, Golden Dawn MP Ilias Panagiotaros said in a rally address in Athens.
Over the last few years, illegal immigration into Europe and Greece in particular has skyrocketed, whilst the Greek economy has plummeted.
The Greek government has piled up a mountain of debt over the years. Its European neighbors and the International Monetary Fund have twice bailed out the country.

But many Greeks are angered at the terms of the rescue packages.
The government imposes far-reaching austerity measures, cut wages and pensions, and eliminates thousands of government jobs.
This is forcing extreme factions of society and even ordinary citizens to point the finger of blame at immigrants.

Riding the wave of discontent the Golden Dawn party managed to get around 7 per cent of the vote in the May 6th elections, winning 21 seats in parliament.

Greek immigrant organizations say that attacks on migrants have intensified since the election of Golden Dawn in May.
Reza Gholami, the head of an association of Afghans, said "Things have got worse since the elections. There are daily beatings. These guys don't just want to frighten people, they are hitting to kill."

Quite recently four Egyptians were assaulted in an industrial suburb of Athens, police said.
The unprecedented rise of the far right has already caused alarm in the country.

Greece's government has strongly criticized Golden Dawn's leader, who claimed that Nazi concentration camps did not use ovens and gas chambers to kill during the Holocaust. 
Members of the Golden Dawn party often act aggressively in public. Quite recently the party's spokesman Ilias Kasidiaris slapped one left-wing female politician in the face and threw a glass of water at another during a live TV debate ahead of the coming parliamentary elections.