Half of Greek cops go ultra-nationalist at elections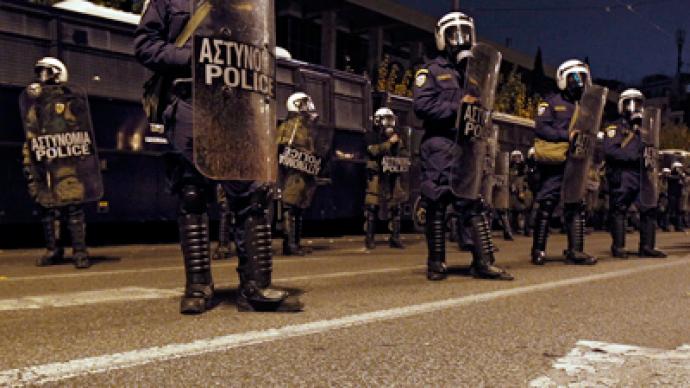 More than half of all police officers in Greece voted for the far-right ultra-nationalist party Golden Dawn – described by many as neo-Nazi - in the elections on May 6. This gave them a record 7 per cent of the vote, securing 21 seats in parliament.
The analysis published by the country's To Vima (The Tribune) newspaper reveals much of the contribution came from the country's police officers.The journalists studied the voting results in several constituencies in Athens, where 5,000 police officers in service in the Greek capital cast their ballots. At some polling stations, the party obtained a striking 19 to 24 per cent of votes. According to the newspaper, at the 11 polling stations (numbered from 806 to 816) located near the police station Ellas, the neo-Nazis received most votes. The four polling stations located near the riot police station MAT, used by the police, recorded percentages of between 13 and 19.The newspaper underlines these figures are impressive. Based on the electoral lists, 550 to 700 people voted at each of these voting stations, of which 20 to 30 per cent were police officers. The newspaper then calculated that 45 to 59 per cent of police officers voted for Golden Dawn.The ultra-nationalist Golden Dawn, whose flag closely resembles the Nazi swastika, got a share of around 7 per cent of the vote, which threw it from obscurity to winning 21 seats in parliament – the first time to pass the threshold to enter the legislative body.It campaigned heavily on an anti-immigrant platform under the slogan "So we can rid this land of filth."The unprecedented rise of the far right has already caused alarm in the country. Greece's government on Tuesday strongly criticized the leader of the Golden Dawn, who claimed that Nazi concentration camps did not use ovens and gas chambers to kill prisoners during the Holocaust. In an interview with Greece's private Mega television, broadcast on Sunday, Golden Dawn party leader Nikos Michaloliakos said, referring to Nazi prison camp Auschwitz: "There weren't ovens. That is a lie… Not gas chambers either."But given that the talks over forming a new coalition government in Greece collapsed on Tuesday, new elections must be held by mid-June. That means voters get a chance to step back from the abyss and see the end of the rapid neo-Nazi rise. Or not.
You can share this story on social media: