Greek neo-Nazi party members reveal series of migrant attacks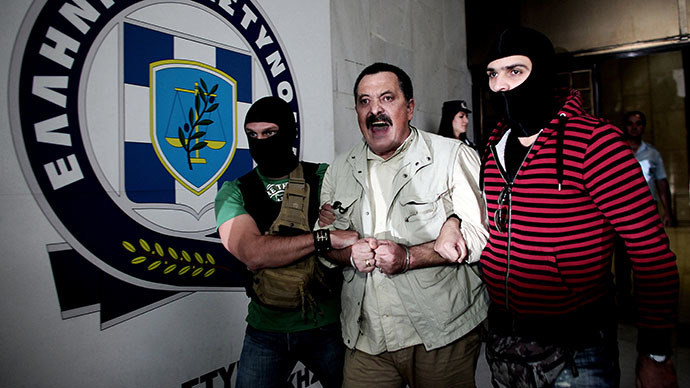 Members of Greece's far-right Golden Dawn party have allegedly committed dozens of criminal acts, including voluntary and attempted homicides and violent street raids, court testimonies revealed.
Testimonies from former Golden Dawn members and police wiretaps have revealed a series of "criminal acts," including scores of migrant beatings.

"I took part several times in activities involving 50 or 60 motorbikes, with two people on each," an ex-member said in a court testimony on Monday. "The one who was sitting behind held a stick with the Greek flag and hit all the Pakistanis he could see."

Golden Dawn members organized "assault militias," in which dozens of members would ride the streets on motorbikes, hitting immigrants with sticks, according to a government report.

The magistrate's report revealed that party members were trained in military style, including the use of assault weaponry.

The neo-Nazi party began its attacks in 1987, said the report by the deputy prosecutor of the Supreme Court, Charalambos Vourliotis. The group was strictly "following the principle used by (Adolf) Hitler," the document added.

Security at Athens's main court complex was tight on Tuesday as preliminary hearings into the murder of anti-fascist rapper Pavlos Fissas continued. Fissas, 34, was stabbed to death in the heart and chest by a Golden Dawn supporter on September 17.

Prosecutors are also investigating whether the party played a role in around 30 additional violent attacks.

Four Golden Dawn lawmakers – Ilias Panagiotaros, Ilias Kasidiaris, Nikos Michos, and Yannis Lagos were arrested over the weekend and brought into the courtroom on Tuesday. They formally face charges of participating in a criminal organization and being aware of Fissas' murder.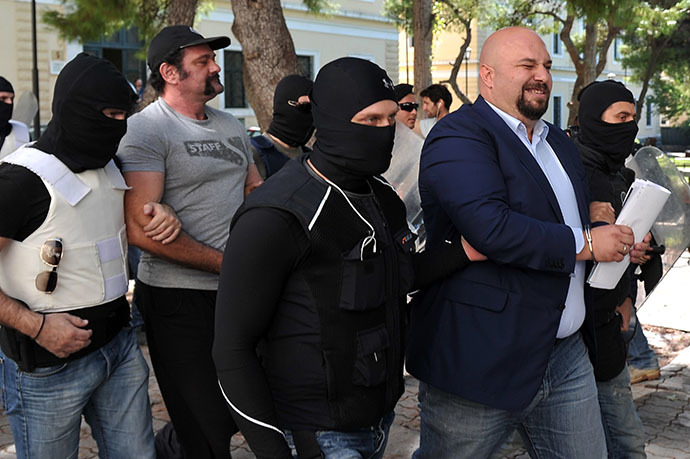 Led by police guards, Panagiotaros raised his handcuffed fists in the air, shouting: "This fairy tale has no end!"

A few dozen supporters of the extreme far-right group gathered to express their support.

Golden Dawn denies having any link to the killing of the anti-fascist rapper and neo-Nazi activities, saying the crackdown on the party is a provocation and those who accused them of the attack are "wretched sycophants" trying to win votes.

Police seized unlicensed weapons, Nazi flags, and portraits of Adolf Hitler and George Ropakias from the Golden Dawn members. Ropakias is the 45-year-old truck driver and Golden Dawn supporter who confessed to killing Fissas.

Party leader Nikolaos Michaloliakos and his deputy, Christos Pappas, were among 22 people arrested in the crackdown on Golden Dawn. They are expected to appear in court on Wednesday and Thursday.

On Monday, Greek Prime Minister Antonis Samaras pledged to eradicate the "shame" of neo-Nazism.

"We are dedicated in completely eradicating such a 'shame,'" Samaras said in a speech to the American Jewish Committee in New York. "We must do it within the context of our democratic constitution. But we have to go all the way and do whatever it takes," the Premier said.

As part of its efforts to bring down Golden Dawn, the government said it would present a bill targeting racist hate speech.

"[The bill] will be submitted to parliament in a matter of days. It has symbolic and moral value," Deputy Prime Minister Evangelos Venizelos told reporters on Monday.

Another law which the government intends to enact will suspend Golden Dawn's state funding, as its leadership is facing prosecution on felony charges.

"Democracy can't fund its opponents," Venizelos said. 
The Racist Violence Recording Network, a group monitoring hate crimes in Greece, estimates there have been 300 serious assaults by far-right gangs in the country over the past two years. This is equivalent to three attacks per week. Nearly all of them involve multiple attackers and end with stab wounds and broken bones.
   
"The level of violence definitely increased. There are more incidents recently that could be seen as having murderous intent,'' AP quoted the network's coordinator, Eleni Takou, as saying. "There has been a definite pattern: Gangs patrol the streets, sometimes with dogs. They usually wear black or military clothing and carry some kind of weaponry -clubs, baseball bats, knives. In other words, the attacks are not spontaneous.''