Greek far-right Golden Dawn topples PM aide amid police crackdown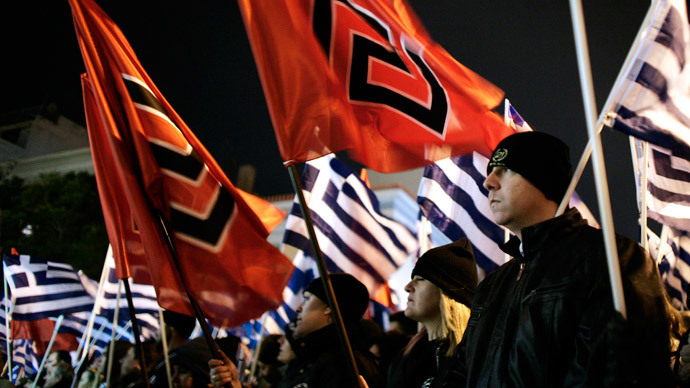 A senior aide to the Greek PM resigned on Wednesday after a leaked video allegedly showed him describing a government conspiracy to clamp down on the far right-wing Golden Dawn party. The leak came as several Golden Dawn MPs were stripped of immunity.
The video showed Takis Baltakos speaking to an off-screen person, who is believed to be Golden Dawn MP, Ilias Kasidiaris, says the Greek Reporter news website.
The senior official said in the video – which was presumably shot last autumn shortly after the arrest and release of Kasidiaris – that Prime Miniser Antonis Samaras was outraged with ministers of justice and police for not pressuring investigators to proceed with the prosecution.
He also admitted that the prosecution was politically motivated, because Golden Dawn was taking votes from Samaras's New Democracy party and thus empowering the main Greek opposition party, the Coalition of the Radical Left.
Kasidiaris suggested that Baltakos go to prosecutors and expose the officials involved, but Baltakos refused saying such an investigation would be immediately shelved.
Announcing his resignation on Wednesday, Baltakos didn't directly refer to the leaked comments, but said he was stepping down in response to the outrage caused by the footage, which was shown on TV. He added he was trying to appease Kasidiaris' suspicion of a government conspiracy against his party.
"I denied it and tried to get rid of the pressure. Everything I said during the discussion was aimed at this, and nothing else, just to get rid of this pressure," Baltakos said, as cited by Reuters.
Justice Minister Charalambos Athanassiou and Police Minister Nikos Dendias denied any involvement with an alleged politically-motivated clampdown on Golden Dawn.
Before the video was leaked on the internet, Kasidiaris provided a transcript of the conversation to parliament, arguing that it proved the existence of a government conspiracy.
Earlier on Wednesday, the Greek parliament voted to strip legal immunities from Kasidiaris and four other Golden Dawn MPs, including Eleni Zaroulia the wife of the party leader, Nikolaos Mihaloliakos. The move opened the way for charging four of the lawmakers with membership of a criminal organization.
Mihaloliakos himself, as well as five other party MPs, are already in pretrial detention on similar charges. Kasidiaris is facing a milder charge of possessing an unregistered firearm. Investigating magistrates have said they plan to charge all 18 people elected as Golden Dawn lawmakers together with other senior supporters with membership of a criminal organization.
Golden Dawn capitalized on Greek dissatisfaction with strict austerity measures to win the third-largest share of parliament seats in 2012.
The ultra-rightwing, anti-immigrant party is suspected of involvement in a series of violent attacks, including the killing of a leftist rapper last September.
The leaked tape scandal comes less than two months ahead of Greek elections for both the European Parliament and local government.
You can share this story on social media: