Car bomb explodes outside Bank of Greece in Athens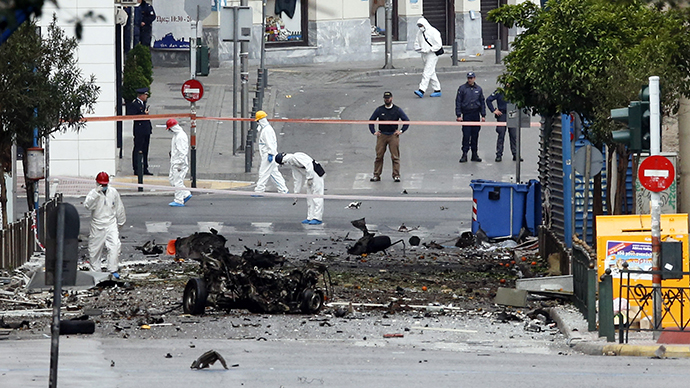 A car explosive has detonated outside a Bank of Greece building in central Athens. The blast smashed windows in shops, but left no injuries.
The explosion came as the country prepares to enter the international bond market for the first time in four years, since the debt crisis in 2010, and a day before German Chancellor Angela Merkel's visit to the Greek capital.
The warning about the car bomb came with an anonymous call 45 minutes before the blast. The caller said that the bomb contained 70kg of explosives, a police official told Reuters.
No one immediately claimed responsibility, but security forces believe it could be leftist or anarchist groups.
Makeshift bomb and arson attacks have hiked dramatically since Greece implemented unpopular austerity measures in exchange for multibillion euro bailouts by the EU and IMF four years ago.
Ahead of Chancellor Merkel's visit, thousands of Greeks flooded the streets staging a nationwide strike in protest of austerity. Organizers of the strike say their anti-austerity message is aimed at Germany, which has been ratcheting up the pressure for more cuts in return for international loans to keep the Greek economy afloat.

The strikers maintain the cuts only impact on the poor and leave the political elite untouched.

In spite of claims from the German government that Merkel's trip is "a normal visit," the Greek authorities have left no stone unturned as far as security is concerned. Around 7,000 police have been drafted in from all over Greece to man the streets of Athens.

In addition, during Merkel's six hours of scheduled negotiations with Greek Prime Minister Antonis Samaras, the government district of Athens will be out of bounds to protesters.